December 14, 2011 -
Barry Dorey
Embrace Your Brand
Tebow could have played it safe and kept his convictions to himself but by wearing his faith on his sleeve he is building his brand.
Growing up in PA, I was fed a steady dose of Penn State Football and held them as the standard. Anytime they played Miami, I bought right into the Catholics versus Convicts theme (good vs. evil). I admired the team concept, no names on the back of the jersey, and I still am a team first guy. I never was a fan of Brian Bosworth, Deion Sanders, T.O. and Chad Ochocinco types. These guys went to extremes to bring attention to themselves. And in doing so some of them put themselves before their team.
The majority of high school and college coaches do not allow for their players to, well, show who they really are in fear that it may detract from the team concept. Therefore, by the time players get to the NFL, they are conditioned NOT to put their personalities, interests and passions on display in fear of appearing selfish, pissing off the coach and even losing their job because of it. Thus, what usually happens is that we really don't get to know who a player is.
Over the last several years, I have changed my tune by encouraging clients to be assertive and opportunistic when it comes to revealing their personality to the world. I even love Deion now.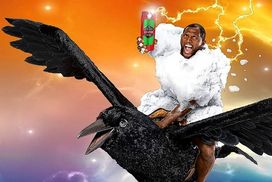 Ray Lewis combines his on-field play with his off-field personality to build a unique brand.
It's been my experience that NFL rookies and young players are hesitant and shy to brand themselves and let their personalities shine through. They are also limited by what the league, team and head coach will allow them to do. However, by playing it safe and laying low, many players are missing out on a golden opportunity to introduce themselves to the world, developed their own brand identity and build income opportunities beyond their football career. Madison Avenue is not rewarding the strong silent types.
I want my clients to embrace their off-field interests, their hidden talents and speak their minds about things they are passionate about. I want to help get a spotlight on the components of their personalities that make them unique.
There is a fine line in team sports where one must be careful to what extent they go to in bringing attention to themselves. However, there are opportunities for young NFL players to do so. I observed that many NFL fans at first believed that Tim Tebow's conviction in Jesus was too over-the-top for them. Now however, the more media exposure he is given and the more he stays true to his conviction the more we respect it and accept it. Tim is building his personal brand as a God fearing Christian who puts the Lord first in all he does. Whether Tim's NFL winning run lasts weeks or years, he has successfully built his brand by wearing his faith on his sleeve. So, why cant that work for other players and their convictions? The answer is that it can!
CONTINUE READING ON PAGE 2