June 22, 2011 -
Jack Bechta
Five changes brought on by the lockout
Even though we don't know when the labor agreement will get inked and we don't know the finite details of a potential deal, one thing we do know is there are some changes coming and there will be a ripple effect in the business of football.
There is a lot of speculation that the lockout could lead to more dropped passes, less rookies playing, out of sync offenses and first year coaching staffs struggling. Only time will tell.
The job of an agent is to project and prepare for any changes that may come and make the best of them for our clients. After several discussions with other agents, some NFL brass and even some coaches (don't tell anyone), this is what I see as some immediate fallout from the lockout and operating on a new landscape.
1) The longer the lockout continues; we will see more aging vets on Sunday. With limited time to prepare rookies and even second year players coming off the practice squad, teams committed to winning now will keep and/or sign older players like S Darren Sharper, CB Al Harris, SS Tyrone Carter, WR Derrick Mason and OL Matt Light. Coaches want players they can trust and depend on to execute their schemes. Experienced vets can excel in situations where preparation time has been limited. Offensive linemen will be especially appreciated to protect premium quarterbacks. Defensive backs and receivers will also benefit.
2) We will most likely see the biggest signing bonuses ever for undrafted free agents. The average signing bonus for an undrafted free agent is usually about $5k with the occasional highs ranging in the $20k to $30k ranges. With teams having the time to watch more film and dig deeper on their evaluations of the players who were overlooked in the 2011 draft, they will focus in on a few that they feel that they just have to have. This will most likely result in the highest signing bonuses we have ever seen for the undrafted free agent market.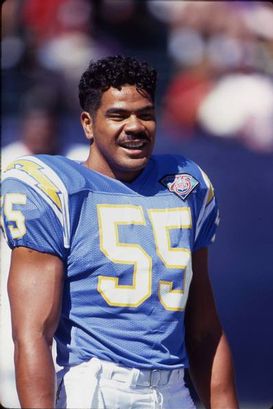 ICONSeau held out until the last Chargers preseason game in 1990.
3) The 2011 rookie class will get a pass. NFL coaches will tell you that the OTAs, mini camps, pre-season and the access they have to rookies is invaluable in getting them prepared for their inaugural season and making them dependable contributors on Sundays. We witness great players such as Junior Seau in 1990 to Michael Crabtree in 2009 and lots in between initially struggle in their rookie years due to a holdout. However, these guys had some instruction and access to playbooks and coaching before camp started. Some NFL brass have intimated to me they are already making plans to use the 2011 year strictly as developmental year for their rookie class. In addition, for those rookies who do play but struggle, there will certainly be some grace as they have to learn on the job.
4) A rookie wage scale with hard a ceiling that limits on signing bonuses and contract structure could change the balance of power in the agent business. If there is a generic system in place for rookies with little room to negotiate, then potential high 2012 picks and beyond may not feel as pressured to sign with agents/agencies who have represented many previous high first round draft picks. The lower return on investment for those top 10 picks will force agencies to be more creative on the marketing and training side while limiting their investment on the front end which will allow other, less well financed agents to compete on a more even playing field.
5) Cheap owners will be forced to spend more. Without mentioning the teams (I will let the readers do that) by name, we all witnessed several owners shut down spending on players, coaches and even front office executives once the NFL opted out of the last CBA deal. Once the minimum cap floor was removed, several owners took advantage of the opportunity to pocket millions for themselves, instead of locking down talent or being aggressive in free agency. A new CBA will most likely bring a higher cap floor (I hope), which may force those teams to be more competitive financially. (After all, every single fan deserves the best possible team an owner can field). As a result of higher cap minimums you will also see longevity positions such as QB and OL salaries continue to sky rocket north because it's always the best place to park money with existing players.
The longer the lockout goes, the more the likelihood of these five predictions will come true. It will also benefit veteran teams like the Saints, Chargers, Eagles and Pats as they work from a system that is already perfected. Regardless, the lockout should add to an already interesting season, which net effects we will witness on Sunday.
Follow me on Twitter: @jackbechta