February 27, 2013 -
Jack Bechta
Five notes from the 2013 NFL Combine
Each and every combine has it's own feel. This year's theme seemed more businesslike than usual. In years past, one attending the Combine always sees or hears stories of how the recent Super Bowl champs were celebrating their victory. One year for example, after the Saints had their first victory, you could spot the staff and brass really having fun enjoying the ride. This year the Ravens staff kept a fairly low profile.
Here are some observations made while in Indy:
1) Mayock's the man: If draft analyst Mike Mayock was in a horse race with Mel Kiper and Todd McShay he just passed them up. Although all three guys are respected throughout media circles, Mike is becoming more of an insider with coaches, scouts and GMs. He talks their language, watches a lot of college football tape and is a good listener. It seems like his analysis of players is gaining credibility with agents and NFL decision makers.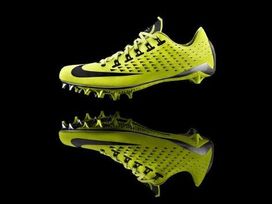 Nike's newest 40 cleat, the Vapor Laser Talon.
2) Turf wars: If you tuned in to watch the 2013 "Under Armor" Combine you saw that the lead sponsor was using a "Shock and Awe" Campaign to get their brand noticed. However, the participants could wear whatever shoe they wanted to workout in and the majority chose a Nike shoe. The lime green shoe worn by many of this year's speed demons was called the Laser. The shoe was so new and secret that players had to return after using it because they didn't want it to fall into competitors hands.
Nike's method of marketing is more personal and surgical. Each year, Nike has a suite at the Combine where players can come by for free shoes and cleats. In typical Nike fashion, they can also get a massage, a haircut, refreshments and get to know the Nike reps. Adidas also had a suite in Indy but they seem to be there just to check the box. Under Armor's steady glacier like move into football is impressive but Nike is still the reigning king with the players.
3) The O-linemen were the talk of the week: If you didn't get a chance to see the O-linemen work out, you missed, pound for pound, the most athletic group at the Combine. These were not your father's O-linemen. They were trim, fast, strong and athletic. Many scouts that I spoke with said this class was impressive from a pure athletic standpoint and many of them can back it up with tough solid play. There may be more offensive linemen drafted in the first three rounds of this draft than ever before in the history of the draft. The TE's were also an impressive group.
4) Struggles with the cap: The race for cap space was obvious with many cuts coming prior to Indy. Those cuts and restructures were made so teams can hold on to their own players and stay under the new cap. The consensus thinking on Tom Brady's restructure was that it was done with the motivation to hold on to Wes Welker. Many think it was Tom's idea. I didn't hear as much buzz about going after priority free agents as I have in the past. With a very small increase in the salary cap, teams aren't getting that instant built in relief that was just given to them with big cap increases of the past. Seems to me that teams are coveting their valuable draft picks and holding on to their own vets.
5) More work and less play: As I bounced around Indy's hotels and restaurants for meetings, I noticed a lot less NFL brass and coaches consuming adult beverages compared to years past. Mo's looks to be the new St. Elmo's for team staff dinners and the place where the top of the NFL food chain meets to unwind. This year's Indy was more quiet than usual. With about one third of the league having new front offices and/or coaching staffs there was little time for play.
I was happy to see my clients perform well this year. And also happy to see former clients working hard as coaches. The 2013 Combine is in the books. Next up, pro days at the universities.
Follow me on Twitter: @Jackbechta