February 22, 2012 -
Jack Bechta
Five things at the NFL Combine you won't see on TV
While the top 300+ players are running around nervously for their biggest audition, there are other unfolding scenarios that the NFL network won't be carrying.
Here's a summary of what's going on:
1) Free agency unofficially begins: This when the market for free agency begins to take shape. It's commonplace for secret meetings (aka tampering-lite) between agents and team execs about top free agents who have not yet officially hit the market. As some teams are still working to keep their own players from hitting the street, they realize that if they don't have them signed by now, their agents are talking to anyone who will listen.
More organized agents (myself included) will actually carry with them a handout sheet listing their free agents, some stats and notes about what kind of contract numbers we are seeking. Some deals even get done in Indy on a handshake.
2) Coaches and scouts looking for work: Everyone who wants to work in the NFL is in Indy networking and trying to get a meeting with a Head Coach or GM. Unfortunately, many who are there looking to hand off a resume are naive to the lack of opportunity their efforts will produce. By this time of the year, there are a few jobs still unfilled but it's usually already narrowed down to a few candidates. There may be a few pre-set interviews but there are still hundreds of guys looking for a break. Most of whom end up drinking their night away talking to another guy looking for a break.
Most GM's and Head Coaches may even keep a low profile so they don't get cornered.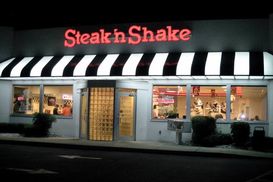 The Steak 'n Shake is where all the real action is.
3) The sideshow: Indy will also be filled with everyone else who wants to sell a product of service to an NFL player, team or coach. There will be a sea of financial advisors, jewelry makers, clothiers, nutritionists, meal service providers, PR agents, endorsement marketers, and even software engineers hawking a new video game. The town becomes one big blender of the entire food chain with the majority of everyone with something to sell swimming up stream to catch the biggest fish.
4) Some old fashion male bonding: Indy will be filled with over 3000 guys and about 10 women who actually work for or with the NFL or the players. The atmosphere really lends itself for some serious male bonding over a beer or wine and some fat steaks.
5) Very nervous players: You probably won't be able to notice if you are watching on TV but the majority of players in attendance are wound pretty tight. They have been training for six to ten weeks with the self-pressure of perfection and hopes of rising their draft value. The Combine has been built up to them so dramatically by trainers, agents and the media, that some guys just freeze up. Especially now that it's on TV for the world to watch their audition. Along with the nerves usually comes no sleep, loss of appetite and tight muscles.
The ironic thing is that after the Combine is over, many players will tell you that it was over-hyped and that they took it way too seriously and because of that they were way more nervous then they should have been.
The Combine would be even more entertaining if they could turn the camera on these happenings a long with one in the Steak and Shake after 1:00am.
Follow Me on Twitter: @jackbechta