August 22, 2012 -
Jack Bechta
Gil Steinke: The greatest coach you've never heard of
A great coach who should never be forgotten. He was innovative, unorthodox and would crush his opponents. He would clean the women's stadium bathrooms with Clorox and sweep off the seats on game day. He would help the flight attendants serve his players and clean up after them as well. He would win, set records that have never been broken and take his team to parts of the world where football has never been played.
He compiled one of the best coaching records in the history of college athletics (186-62-4 ties, a 74% winning percentage)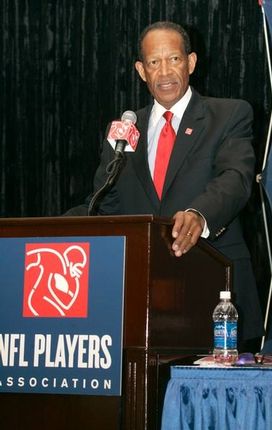 ICONGene Upshaw, like many others, was groomed by Steinke.
Steinke was the athletic director and head football coach at Texas A&I University (now Texas A&M-Kingsville) for 23 years and during that time he compiled a record that takes a back seat to no one. More importantly, he recruited and harmonized whites, African-Americans and Hispanics together and taught them to play together and respect each other in the south where and when racial tensions were running hot.
Steinke's squads won six national championships, were a national runner-up once and had an eighth postseason victory when the Javelinas won the 1960 Great Southwest Bowl.
His teams had a 14-1 record in NAIA post-season play.
The Javelinas won 10 Lone Star Conference championships in his 1954-76 tenure. This was no easy feat as during this time most Texas football players stayed in the state and the Lone Star Conference was loaded with talent.
Steinke had a 39-game winning streak intact when he stepped down as head coach after the 1976 season.
In his final three seasons, Texas A&I was 13-0 in 1974, 12-0 in 1975 and 13-0 in 1976.
He also had undefeated teams in 1962 (9-0-1) and 1967 (9-0-0).
The 1974, 1975 and 1976 teams led the nation offensively and the 1976 squad set a national record for most yards gained during a season (6,269) and another mark for most offensive yards per game (569.9).
His teams were among the most traveled in the nation, at any level. He took his 1976 team to Europe and played exhibition games against Henderson State (Arkansas) in Austria, France and Germany. It was the first time American football was played in Europe and A&I won each game.
The Javelinas also played games in Mexico and Hawaii, and went against clubs from 20 different states. The Javelinas played the University of Hawaii in 1975 to open Aloha Stadium in Honolulu and took a 43-9 victory. The Javelinas returned the next year and again left the Island victorious.
After hearing that the media was calling Slippery Rock (PA) the best small school program in the country, Gil scheduled game with them in 1976. The Javs pounded the Rock 58-7. He was notorious for calling out teams from around the country of whom many declined the invitation to play him.
He was a charter inductee into the College Football Hall of Fame in 1996 when it opened its doors to coaches and athletes from college division schools.
He was inducted into the Texas Sports Hall of Fame in 1977. A health and kinesiology building on the Kingsville campus is named for Steinke.
He retired from coaching after the 1976 season but continued as athletic director until 1982. At football conventions and award ceremonies, he was often sought out by other coaching royalty of the day.
At his retirement, Texas A&I President Dr. Gerald B. Robins called Steinke "an institution within an institution".
While his records and his honors are unsurpassed, he was a pioneer and created many firsts in football.
CONTINUE READING ABOUT GIL STEINKE ON PAGE TWO...