August 26, 2010 -
Jack Bechta
How an agent can define a career
When 6th round pick DT Kelly Gregg was cut by the Bengals in 1999, they signed him to the practice squad. The personnel director emphatically told me, "Kelly will never play in the League, and he is lucky to have a practice roster spot."
I'll never forget the conversation, because I had to test my own belief in my client's abilities to make it. At that moment I had to ask myself, "Who should I believe, the seasoned personnel director or my own eyes and my own knowledge of football? Can I pick up the phone and sell Kelly to another team with conviction?"
For me, the answer was an easy one: the personnel director was dead wrong. I watched Kelly dominate the Big 12 at Oklahoma, and there wasn't a guard or center that could block him at the Senior Bowl. Most of all, I had promised both him and his father I would fight tooth and nail for him, and that's why he'd signed with me.
On August 31st, teams will have to trim their rosters down to 75 and eventually to 53 on September 4th.
Many agents will have to pick up the phone and find a new home for those who fell victim of the "Turk", the personnel department employee who brings the bad news to players who are cut. Others will have to field calls from one or more teams and make a quick decision on wheretheir client is most likely to succeed. It's a fast-paced game of musical chairs with losers and winners. Ultimately, it's the agents who will make or break a player's career with their efforts, or lack thereof, and their ability to understand all the dynamics that encompass the best opportunity for a player.
Agents who have played the game at a high level, are depth chart junkies, and understand the dynamics of each organization will most likely do a good job at finding the optimal situation for their clients. I will admit that in my younger agent days I was susceptible to being sold. Nobody was better at that than Mike Lombardi, Bobby Beathard, John Gruden, Randy Mueller, Scott Pioli, Charley Casserly and several others. I'm not saying these guys were misleading, but if they got you on the phone it was often hard to say "no" to them, regardless of the situation.
When placing or selling a player after they have been cut, an agent must quickly take the following things into consideration:
Does the opportunity get the player on the field faster than any other opportunity?
Do the player's skills match the system?
Will the player be coached and appreciated by the position coach/coordinator? Is the position coach/coordinator involved in the decision-making process, and does he have any clout with the organization?
Does the team have a coaching staff and front office that will be in place for the foreseeable future? Is it a stable environment to develop a young player?
Do the current players at his same position get hurt frequently? Are they older or in a contract year? How did they play the previous season?
In most cases, I can determine how important the opportunity is to the team by who is making the call.
In Kelly's case, I decided to find another spot for him while he was on the practice squad. The then-struggling Eagles eventually signed him to the active roster for their last 3 games in 1999. I knew Tom Modrak thought highly of Kelly, and he was willing to develop him. However, in 2000, the Eagles cut Kelly with the promise of putting him on the practice squad for just 3 to 5 weeks and activating him again during the season. Once his name hit the wire, I got a few calls. One call was from the Ravens. I can't remember who called me ,but Kelly told me that Rex Ryan, the D-line coached had called to recruit him, as well.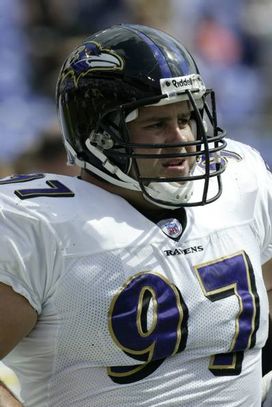 IconOne team told Kelly Gregg he'd never play; another put in the effort to develop him into a starter.
I called Rex back and quizzed him on his plan for Kelly. The fact that Rex knew him well from coaching him at Oklahoma gave me a high comfort level. Rex pleaded with me to let him develop Kelly for one year on the practice squad and said that he'd have him eventually replace the aging Tony Siragusa and/or Sam Adams. In the meantime, the Eagles, were promising an active spot within a few weeks. I decided to challenge Rex by telling him that Kelly's future was now his responsibility and I was going to hold him accountable to his promises. To the Eagles' surprise, I moved Kelly to the Ravens the next day. Rex kept his promise, and Kelly went on to be the NFL leader in tackles for all defensive lineman over the next 10 years of his career.
I'm sure Kelly would have succeeded with the Eagles as well, but being reunited with Rex was the best thing for his career. I may have not made that decision 10 years before, but knowing who is going to give your client a legitimate opportunity and fight for him behind closed doors can be the difference in whether or not a young man has a career at all.
Click here to purchase the Total Access Pass/Draft Guide from the NFP and receive a FREE Deuce Brand watch while supplies last.
Follow me on Twitter: @JackBechta