February 20, 2013 -
Jack Bechta
How business gets done at the NFL Combine
This must be my 25th Combine and I hope to have many more. As an agent you either love it or hate it. If you have a big name free agent it's especially exciting because you will be very popular. It can be a lot of work but also a lot of fun, especially if your rookie clients do well. It's not so much fun if they struggle or even get injured.
Here's what goes on that you won't see on ESPN or the NFL network: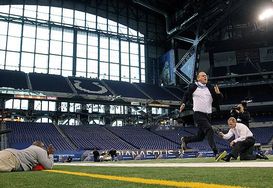 Rich Eisen's 40 time isn't the only thing going down at the Combine.
Kickoff to free agency: Although free agency doesn't begin until March 12th, serious face-to-face talks between agents and possible suitors begin. They usually take place in a General Manager's suite or even in some dark corners of Indy. I once had a meeting in the nook under the stairs in a hotel where it was so dark I could barely see the GM. Tampering should apply but it's an unwritten law that if a player isn't signed back to his current team by now, he's free to explore the market. The agents with top free agents will be hounded by, and I mean hounded by the breaking news jockeys such as Mike Florio, John Clayton, Adam Schefter and Aaron Wilson. Indy is where the deals kick off and sometimes even can get done on a handshake.
Major bitching sessions: Coaches have been coaches their whole lives and the majority of them have never done anything else. Thus, they have their own language and feel most comfortable talking to other coaches. They will get a chance to reconnect with their peers from around the league. They have been working 16 plus hour days from late July to the end of the season and are looking to vent, brag, complain, gossip, laugh and tell stories. The guys who were fired and/or had horrible seasons will feel compelled to explain what happened and whose fault it was. The winners will carry themselves with swagger and tell how they outsmarted a coordinator on the other side of the ball. This will all be done in huddles while watching the Combine, over a beer and/or just walking down the street to watch weigh-ins.
The "last chance" meeting: Some of the busiest guys at the Combine are the team cap managers. Most go there with a full dance card of agent meetings. The goal is to restructure a few players' contracts to create some cap room. Unfortunately, for the players that they target, the restructuring is to also take a reduction in pay. These meetings are never fun, especially if the player and agent are taken off guard. So if you are an agent, and a salary cap manager asks you to meet them in their suite to "talk" about your client, be ready for a proposed haircut. These proposals are usually met with great resistance and it takes the player and agent a few weeks to swallow the move. Most of the time, the player reacts emotionally and says "Adios, release me please". And more often than not, the deal offered by his team was better than what he ends up getting as a free agent.
The power places of choice: Business isn't always discussed in dark shadowy places. Actually if a team invites an agent to have a nice dinner with the HC, GM, and cap man, it's because they are recruiting him to get a deal done with his client. The usual places of choice are: The Capitol Grill, St. Elmo's, Mo's and/or Shula's.
Here are some other happenings:
John Harbaugh and Ozzie Newsome will get a "congratulations" handshake (thousands) by everyone who sees them. They won't be able to walk down the street.
There will be a mandatory agent seminar with about 500 agents in attendance. Reporters will lurk outside waiting to hear what went on inside.
The downtown Steak N' Shake will be visited late night at least once by most in attendance.
Follow me on Twitter: @Jackbechta