September 26, 2012 -
Jack Bechta
How do agents find new clients?
The two questions that agents get asked every single time by someone they just met is "How did you get into to the business?" And, "How do you identify prospective new clients?"
For starters, I only sign about four to five new clients each year. However, I may speak with and present to fifteen draftees to get my five. So what methods do I and other agents use to identify legitimate prospects? Note: this is an article about identifying prospects, not the actual signing pitch.
Being a mid-size, independent agent that I am, with no household name calling-card clients like Tom Brady, Adrian Peterson, or Peyton Manning, I have to find players who aren't looking for that. Although I compete against agents who have those rosters, I first have to identify prospects that will give me a fair chance at representing them. Although I do have a roster of rising stars, pro bowlers, starters, and some of the highest paid at their respective positions; college players don't follow the NFL like you may think they do. So I have to find players who aren't solely looking for the big, high-profile agencies that represent the biggest names in football. I have to find clients with high character traits, values and high standards. These guys are the best fits for me. Other agents have their best matches as well.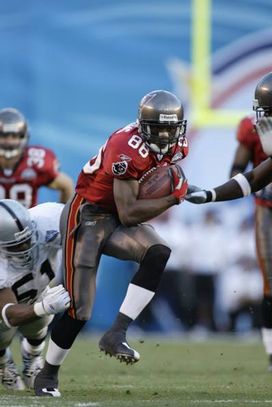 ICONFormer client, Karl "The Truth" Williams, went undrafted. He was quick and sure handed and went on to play 9 years in the NFL.
Can they play at the next level?
Outside of the obvious top ten or fifteen talented well-known college players headed into the draft, there are another two hundred to two-fifty that are great clients to have. However, there are thousands of college players to choose from and a lot of them are just that, great college players. When I was a young agent I fell in love with what I call the "Rocky players". The overachievers who do nothing except produce and win. I had an ISU Cyclone QB named Bret Oberg. He shredded apart top rated Big 12 defenses and was infectious to watch. "Maybe he's the next, even taller, Doug Flutie", I thought to myself. I signed him and got him into the Bucs camp. I quickly learned he didn't have the arm strength to make all the NFL throws. He was cut with no further options.
Rule one: make sure they have the minimum athletic ability to play the game. That mainly includes speed, height and a certain body type for the position. It especially means speed.
So where and how do we get our intel on players?
Most experienced agents have direct access to area scouts, college directors and even GMs who will willingly share reports and intel on college players. I for one rely heavily on the area scouts. They know more about the players than anyone in the pro system.
So are you wondering why scouts will give away this info? Because they may need help down the road with getting a new job or promotion. Agents can and will help with this process. Secondly, some GMs actually tell their scouts to be accommodating to certain agents. The reason here is that the team may turn the agent on to an undrafted sleeper with the hopes the agent will sign him and then eventually send that player to their team.
CONTINUE READING ABOUT NEW CLIENTS ON PAGE TWO...