October 24, 2012 -
Jack Bechta
How the NFL can expand abroad
While attending the NFL London games the last several years, I noticed on the subway that European fans were wearing jerseys from many different NFL teams. So I decided to ask them how they became fans. To my surprise, many of them discovered NFL football in three ways: While attending college in the states, while living/working in the states for a short period, and by picking the games up on satellite and watching them with American friends abroad. None of the Europeans I spoke to last year became fans because of the London game itself.
Marc Reeves, NFL International Commercial Director, told me at a conference last month that he does have a gargantuan task selling the NFL product abroad. He said to me, "my team and I have the job of pushing the boulder up the mountain. Our gains may not be noticeable but they are there and it will take some time to be significant." Yes it will! Most likely, it may take ten to twenty years to build a mass fan base.
Although the London game itself is the tent pole for selling the NFL product abroad, much more has to be done on a grass roots level to create a real and ever lasting interest abroad.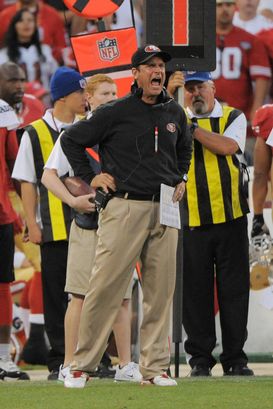 Getting a passionate coach, like Jim Harbaugh, in front of fans to teach them the game would make a huge personal impact.
Some Europeans I met became NFL fans from their exposure to NFL Europe. The Europe league didn't make the large-scale impact the NFL hoped it would, however, it was still cultivating and educating fans. Several fans told me they would go just to see the cheerleaders, do the wave and watch the kicks. Yes, that's right, the kicks and punts were the most popular plays to many foreign fans. Most Europeans grew up kicking a soccer or rugby ball so it's a skill they appreciate and can relate to. The loudest cheers I ever heard at the NFL Europe games I attended were always associated with kicks and punts.
Having the London game does attract fans from all over Europe. Although the stadium is usually full, many tickets are bought by businesses and then given to their employees. Wembley is an impressive venue but because of its size and dimensions the seats are a lot further away then most NFL stadiums so the fan experience is not an intimate as you would get at a Packers game. So I feel the game there doesn't truly represent the feeling of the traditional NFL game. Not to mention, most attendees will take the subway (or shall I say the tube), so there is a lack of tailgating, which is half the fun and experience of an NFL game.
So how can the NFL farm more fans abroad?
Win over the foreign students going to school in the USA. There are roughly 700,000 new foreign college students who enroll each year in our country's universities. Help them adopt and learn the basics of football. Get them directed to NFL websites in many languages with a Rosetta Stone type leaning method. Have football 101 books available in the student bookstore. It's a win-win for both, they want to be accepted, meet people, experience our culture and feel like they belong. If they embrace the game, they will then teach their friends and families back home and recruit more consumers of the game.
CONTINUE READING ABOUT THE NFL IN EUROPE ON PAGE TWO...