January 06, 2011 -
Jack Bechta
Inside the agent pitch
This is the week where 2011 draftees make their final decision on selecting agents. The majority of players have already done so and some even made up their minds as early as this past summer.
The majority of pitches are usually performed in a prospect's home, some in the agent's office and others in a hotel lobby or restaurant. When I get to choose the location, I select a place that has little or no distractions, which may also be familiar to the player.
The pitch covers a lot of material in a very short time. I once made the mistake of pitching a player and his family after eating a large Thanksgiving dinner. Half way through the presentation everybody was fast asleep in a turkey coma on the living room's cozy couches and chairs. Luckily, the prospect has now been with me for 10 years.
From what I hear from players, all pitches are a little different. Some agencies show a high quality Hollywood produced video selling the sexy side of the business complete with testimonials from clients. In some cases agents have been known to bring current or retired players with them to seal the deal. Deion Sanders, Joe Montana, and many high profile players have sat in on presentations. I usually go solo unless it's in my office, then I may have my staff participate. Having La Jolla, CA as the back drop of my office can only help set the mood.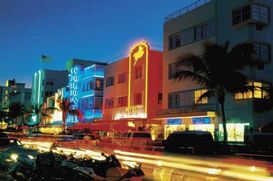 The Miami nightlife is just one of many tools agents can use to pitch a prospect.
Some agents who are based in New York, LA or Miami definitely leverage their setting by treating the prospect to some local fun and entertainment to soften them up before the big pitch. I have had several prospects stay at my home so they can get a feel of who I am outside of the agent title. One prospective client, Todd Rucci, ended up staying 2 months before he signed with me. I finally broke him down to signing with me on my birthday, March 8th. We still remain close friends today.
The majority of the time, the pitch is usually spent on the preparation and training plan for the NFL Combine. When draftees finish their senior season, they are immediately faced with the gauntlet of all-star games, interviews, and the Combine. Most players can't help but focus on the near term and thus usually sign with agents who can produce the best training plan. Many large agencies have gobbled up the finite training slots at premium combine prep facilities such as Athletes Performance. I sent them one of their first draft classes including NFP's own Matt Bowen. Since then, it's tough to get a slot but I always buy one in case a guy is hell bent on training there. A lot of smaller agents get shut out of purchasing a slot. However, there are now several high quality training alternatives available throughout the country as this cottage industry has really blossomed in the last few years.
You would be surprised by how many draftees talk to just one agent, shut out the rest and go with the first guy they speak with. In other cases some players like the attention so much and may talk to everybody. When I see this I pull out as I don't waste my time getting involved what usually ends up being a bidding war.
One of the biggest components of the pitch is usually centered on the current clientele of the agent. There's an assumption that if an agent represents a high profile successful player that the agent must be special. The fact is that, players make agents, agents don't make players. Regardless, there is a huge comfort level and even an ego boost that the draftee gets to know that he is in the same company of some of the NFL's best known players. Therefore, I search hard for egoless guys who value the relationship I offer over the brochure and client list of my competitors. To date I have been blessed by representing some of the highest character young men in the business.
Follow me on Twitter: @jackbechta