September 14, 2011 -
Jack Bechta
Is your team committed to winning?
If every team was structured like the Packers, the NFL could be that much better. As a community owned team, decisions are made in the long-term best interests of the fans and the franchise. Unfortunately, many other teams are still run like a mom and pop shop by their long time owners. That's not always a bad thing if the ownership group is committed to winning. However, not all of them are.
Seeing who your team signs and more importantly, WHEN, they sign them can be a good barometer as to who is committed to winning and giving their fans the best possible product.
With the NFL salary cap structured with a mechanism where there is a per team minimum hard floor that MUST be spent on players, it may be difficult for fans to see if their owners are committed. However, when that floor disappeared as it did in 2010, 2011 and in 2012 (2011 and 2012 are league wide minimums not per team minimums), we are getting more transparency as to who wants to win at all costs. And, who wants to pocket as much money as possible at the expense of fielding an inferior product.
Props to Ziggy and Vikings
If the Vikings had designs of using the franchise tag on Adrian Peterson for the next few years it would have been a prudent money management strategy especially for the running back position since injuries are the most commonplace and the careers are the shortest. However, along with that methodology could come some major drama such as a very unhappy AP who no longer would want to be a Viking. That affects things like ticket sales and locker room morale. If they would have let him get any deeper into the season there is no way that he or his agent would have agreed to a deal as they did last week.
The fact that the Vikes inked both Chad Greenway and AP prior to the start of the 2011 season and not waiting to the last minute to do so is a sign of proactivity from the front office and the owner. From the player and agents perspective, if you don't get a deal done prior to the final year of the contract and prior to the start of the season, the player is being "disrespected" and might as well be a widget in the eyes of the owner. With the expensive acquisition of Favre and McNabb over the last years, the free agent acquisitions of Allen and Hutchinson, there is no doubt this is owner wants to spend and wants to win.
The Public Servant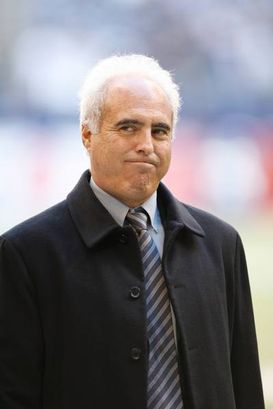 ICONWill the spending pay off this year for Jeffrey Lurie and the Eagles?
I first met Eagles owner Jeffrey Lurie when they drafted my client, O-lineman Jermane Mayberry in the first round of the 1996 draft. In a one-on-one meeting with Jeffrey he told me why he bought the Eagles and his plan for the franchise going forward. Growing up in Philly as a long time Eagles fan I was invested more in the conversation than I normally would be. I was impressed that he genuinely described the ownership of the Eagles as that of being a custodian of a public trust. He went into detail about how the Eagles belonged to the community and it was his job that they get benefits beyond just wins and losses.
I saw an owner who was committed to the fan experience, making a serious difference in the community and fielding a winning team. Handing his checkbook to his football people and securing top free agents this year is more proof of his determination to give the Birds faithful a championship franchise.
A Blank Check
A few years ago I was part of something very odd but yet very innovative. Falcons owner Arthur Blank had invited about 16 top agents and those who represented his top players to a meeting with him and his GM at the time, Rich McKay, to pick our brains on how he can help improve any and all aspects of his team. He was interactive with each and every agent who had any input on improving the best work environment possible for his players. He wanted to know how he could be a better owner and how he could best take care of his team. I left that meeting highly impressed by his efforts and willingness to be an ego-less listener. It was obvious he is an owner who wants to win but in a way that is sensitive to his fan base and his players. In addition, he has really worked hard to make his home game day experience one of the most family friendly in the NFL. He has hired some great football people and lets them write the checks for what is in the best interests of the franchise.
Less than fully committed
There are several ownership groups who run a very tight and reactive money management system of spending on their players. We agents know who they are. They only do contracts when they have to and spend because of cap requirements. In essence, they do the bare minimum and then rely on their scouts and coaches and the draft to produce a winning product. The rest of the money they save simply gets pocketed. As one GM put it to me who works for one of these owners, "I have two negotiations with every contract, one with the agent then another with the owner. It's like pulling teeth for every dollar."
In 2013, the team minimum floor will trigger where each owner will have to spend 89% of their cap. There will be no more free riding, as the dollars must be spent.
On September 23rd the movie Moneyball will come out. Please don't let your owners see this or they will think that it can be applied to football. It can't!
When an owner envisions him or herself as a custodian of a public trust and operates a team in the best interest of the fans, everybody wins, even the owner. Just ask Packer fans.
Follow me on Twitter: @jackbechta