September 02, 2010 -
Jack Bechta
It's time for the agents to shine
Imagine that while you are busting your ass in the work place, the boss' right hand man taps you on the shoulder and asks you to "gather your company's manuals and report to the boss' office right way." You know what it means: you have just been fired. No two-week notice, no retirement party, just get your stuff and get out of here as soon as possible. "Oh, we might call you back if some things change around here. Do you need a ride to the airport?"
Imagine that your career dream of doing what you love doing the most has been taken away from you in an instant and you are left with nothing but questions. This is how it goes down in the NFL.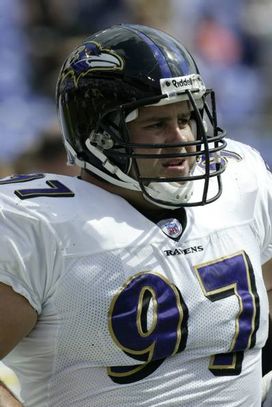 IconRavens defensive lineman Kelly Gregg was told he'd never make it in the NFL. Looks like No. 97 proved that them wrong.
I currently represent 18 active NFL players, several of which are the highest paid at their position and have been to the Pro Bowl. However, when I call them this time of year, just about every one of those guys gets a little nervous that I'm the bearer of bad news. The news being that they are going to be released. The majority of NFL players are all feeling a little insecure right now.
On several occasions, when the team was courteous enough to give me a heads up that they were going to release my client, I had to be that bearer of bad news. And let me tell you first hand that it's a hard thing to do.
In the majority of cases, the team usually lets the player know via an internal messenger, AKA, the Turk. It's usually very sterile and unceremonious. The athlete, who was all-world in football since Pop Warner, was his high school's hero and college's darling, is now just a rudderless transaction, who, for the first time in his life, is unwanted.
So what happens next?
It's time for the agent to shine and for the player to get mentally tough.
An agent's first job is to educate the client on his options. The second task is to be forensic and find out why the player got cut. Does he not have the minimum athletic skill set to play? Is the team just too deep at his position? Is the player hurt? Does he not fit the scheme? Is it really just a numbers game?
I have to ask the coaches and GM for honest answers so we can formulate our next move. Even if we are told the player can't play in the league, we still have to second-guess the team brass and find the client a job.
My client Stylez G. White has been cut at least 5 times. Each time I worked hard to find him an opportunity. I once had a GM tell me he loved his talent, but his position coach didn't care for him as much and he didn't want to force White on his coach. My job was then to keep encouraging personnel men to evaluate my client's preseason tape and his production in those games.
Being cut can put a player in such a deep funk he may never recover. I have had clients quit after being cut their first time even when there was a potential practice squad spot or a future signing. I've had clients break down and cry. One of my clients actually left camp the week before cuts because he knew it was coming. The team demanded he come back. And when they convinced him to do so, they cut him the next day anyway.
Only about 25% of the players in the league may be temporality immune to being cut. However, in time, they too will become victims of the Turk.
Follow me on Twitter: @JackBechta