April 19, 2011 -
Jack Bechta
It's time for the NCAA to pay up
As an agent of 24 years I have a good idea how college football players live. I've been inside many apartments in just about every part of the country giving presentations for my services. Like most agents I usually help fund living expenses for a player's last few months on campus after his senior year while he works out for pro teams and gets ready for the draft. I know what their monthly overhead is in just about every part of the country. I also know college football players need more cash in their stipends and I strongly believe they should start participating in the profits they help to generate for their athletic departments.
As a full scholarship athlete myself I remember always being hungry, especially at the end of each month. Such that I took a job at a restaurant so I can make some extra pocket change and have access to food. Even though some stupid NCAA rules at the time prohibited me from working while on scholarship, I did so anyway so I could survive. My dad would send me about $150 a month to help out and I was still barely making ends meet even though my rent was only $200 a month.
One of my clients who recently attended a PAC-10 school told me he had to resort to "mastering the Jack-in-the-Box dollar menu" and get a part time job just to survive past his stipend. My client also said the players who resort to cheap fast food find it counter productive to their training and workout efforts. After taking care of the basics like: rent: $420, phone and wireless: $120, utilities: $60, gas: $60, and auto insurance: $140, he was left with $200 for food, clothing, and entertainment for the rest of the month. If the car broke down, or he needed a computer, a suit, hotel room, or anything out of the budget, he quickly starts going backwards. I have Big-10 clients who gave similar stories and who relied heavily on parents for subsidies.
College football players dedicate on average about 35-40 plus hours a week during the season and about 20 plus hours a week in the spring and summer. While most college students are enjoying summers at home, at the beach or traveling Europe, college football players are taking a few classes to lighten their fall load and working out in their voluntary (you better be there if you want to play) programs. Your average college football players are burning a lot of calories and they're hungry all of the time. They are also tired from classes, working out, meetings, watching film and visiting the training room for treatment at 6:00am every morning during the season.
There is plenty of money available to start graduating monthly stipends north, especially for those in high cost of living areas. No matter where I visit a player, they always seem to be renting a place with at least 2 to 3 other players. I never saw guys living in luxurious situations.
The economics of college football revenues will skyrocket over the next 5 years. With competition heating up for TV rights fees, all conferences will see double digit increases in media rights. However the monies will not trickle down to the players and the average monthly stipend will stagnate around the $800 to $1,100 per month range. Players will continue to be hungry, tired and be under compensated for their services. If the NCAA holds on to this antiquated formula, the friction will mount causing an earthquake somewhere down the road. Some smart attorney somewhere, supported by a few college star players and their families, will boycott the system prior to the start of football season and get the attention of the federal courts. The fact of the matter is that some powerful governing body has to hold the NCAA and its members accountable for how they compensate and treat players and distribute their ever increasing wealth.
Based on my research the top 25 college programs are turning a "profit" of over $25 million per school. In 2009, Notre Dame cleared $38 million in profits, Texas over $58 million, Penn State did $50 million, Oklahoma $40 million, Michigan $34 million, LSU $30 million, Georgia did $45 million, Alabama $35 million, Nebraska $49 million, and Florida $41 million. The profits made will lead to increased coaches salaries, improved facilities, supporting other unprofitable sports programs, bigger score boards and more luxury stadium seating.
The majority of college football players come from blue-collar families that can barely make ends meet themselves. When a college athlete needs to fly home at the last minute for a grandmother's funeral, go to a family wedding, put new brakes on 15 year old chevy and even buy Christmas presents, the money is just not there. In addition, when his school attends a bowl game his family usually can't afford the cost of hotels and plane tickets to the bowl city. They usually pack up the minivan, pack up some food and pile 7 deep into a motel 6 on the outskirts of some beautiful metropolitan bowl host city. On the flip side, everyone working or associated with the universities' athletic department is partying in style compliments of the football program.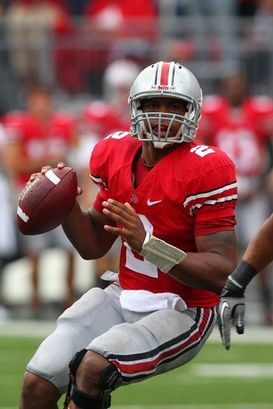 ICONTerrelle Pryor must sit while his jersey continues to sell.
It pisses me off that players and coaches at Ohio State are being suspended for selling jerseys. But the school can make millions selling 5 different versions of that player's jersey for several years and keep the profits for themselves.
The NCAA can save themselves some headaches and backlash down the road if they would institute the following recommendations:
-Increase the monthly stipend by $500 to $800 per month per player depending on the cost of living in the campus area.
-Split the royalties with players (about 4%) from their own Jersey sales to be placed in a trust until that player graduates.
-Offer free graduate school tuition for all players, which must be used and completed within 7 years after graduation.
-Give players a $1,000 travel credit per year for trips to go home.
-Supply each player's family with a hotel room for bowl games and even home games (if they live more than 180 miles from the campus).
As the profits increase dramatically for football programs let's pass on a small portion of the revenues to those who deserve the most.
Follow me on Twitter: @jackbechta