December 03, 2014 -
Jack Bechta
Landing the first client
The number one question agents are always asked by anyone is, "How did you get started?"
This is an important week for agents. Many college football players and their universities open the window to the agent interview process. The week after the last regular season game is usually when players start thinking about narrowing down their choices of agents, or, outright making their selection. For those going to a playoff and Bowl game they usually wait until after the playoff game and sometimes after the bowl game. However, 95% of college players usually commit to an agent within a few days after their bowl game.
This time of year is stressful for agents as we wait for players to make contact with us, make a decision or confirm a meeting. Or, to hear that they're, "going in another direction".
Before the Internet, pre-draft web sites, the NFL Network, and before the avalanche of information came to be in this digital age, opinions on draftable prospects were scarce. If you didn't know a scout or two you were banking on a players reputation, and maybe a scouting report from one of only two publications in the marketplace.
I was lucky enough to play college football at a small Texas school (Texas A&I Univ., now called Texas A&M-Kingsville) that was consistently producing NFL talent.
My junior year, I had a front row seat to watch my teammate Hall of Famer, Darrell Green, get scouted weekly and eventually get drafted in the first round. My suite-mate, Lloyd Lewis was also a top prospect and our phone (before cell phones) was always ringing with agents and scouts. I had the job of screening those calls and relaying messages. I also went through the pro day process of being evaluated so that was the extent of my exposure to the scouting and agent process.
After I graduated, I started working for investment banking firm E. F. Hutton in Corpus Christi, TX. After reading a Wall Street Journal article about how players were getting ripped off and always losing their money, I got certified as an agent with no knowledge, plan or guidance. I just wanted to help players protect their wealth and it was a way for me to stay close to football.
After watching some of the players I played with, I went back to my alma mater and sat down with two of the team's best players, a receiver and a defensive tackle. Both looked the part but weren't very instinctive. Nonetheless, I signed them and had no clue what the hell I was doing. They didn't get drafted but they did get signed as undrafted free agents.
That year, 1987, was the strike year so there was a vacuum for bodies needed as replacements players. One of my players got to play in all three strike games and was seen by a lot of other teams. Once the strike was over, he was let go but was recruited hard by four different teams. He bounced around the league for two years and never stuck, but I got valuable experience and made a lot of good contacts with GMs and personnel directors.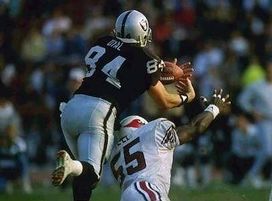 Landing the first client is the most difficult.
The following year I was really impressed with a tight end from my school named Mike Dyal. Mike was recruited as a QB, then went to wide receiver and kept getting bigger and eventually was moved to tight end. I got to see Mike play several times. Playing the same position at the same school, I really appreciated his talent. He was fast, smooth, and a good blocker with great hands. I was also naively convicted that he would make it.
Mike was actually recruited by a few other agents but eventually signed with me. I still wasn't polished at the job, as I was still a full-time investment consultant and our offices' retirement specialist, so I was working about 60 hours a week for Hutton.
I started calling teams, as I was accustomed to cold calling, and was very comfortable on the phone. I was surprised that most teams never heard of Mike Dyal so I went into sales mode. In 1988, game film from a small school was finite and hard to duplicate. So I had Mike bunker down in Kingsville and painstakingly make a highlight tape. After weeks of work we had a VHS tape, which I then had to make copies of. The work was laborious, cumbersome, and time consuming. I managed to produce about 32 tapes, which I sent out (along with a detailed bio of Mike) to all 28 teams.
I then waited for the calls to come in from my efforts but the only thing I got was the sounds of crickets. I started aggressively calling teams to encourage them to look at the highlight tape. In doing so I discovered two things. One, many teams graduated to Super VHS and/or another system all together. Ouch! So I went back to the drawing board and got the tape made in Super-VHS and mailed those out. Again, nothing but crickets. The second thing I learned was that scouts weren't going to go out of their way and spend time in Kingsville unless there was a top prospect there.
The draft was a month away and I knew the Cowboys, the Raiders and the Vikings all spent some intimate time on campus doing some work on Mike. Thus, I figured I'd best keep in touch with these teams. However, the stress was building and I was getting desperate.
I went to visit a friend in Tampa and I brought a highlight tape with me to present to the Bucs then college scouting director, Jerry Angelo. Jerry granted me 20 minutes. He spent time advising me how to find players, what books and magazines I should subscribe to and to always be sure that prospects have minimal measurables such as size and speed to play the game. I eventually presented Jerry with a Dyal highlight tape and was hoping he would watch it on the spot. He didn't. Even worse, he pointed to the back wall of his office to show me a pile of highlight tapes waist deep by ten feet wide. As I looked at the pile, sinking in my chair, I realized it was a highlight tape graveyard and pictured 28 similar cemeteries around the league.
Jerry ended up graciously spending two hours with me and was nice enough to give me a crash course on scouting, contacting teams and promoting players.
A few days before the twelve round draft I finally got a call from Al Davis' right hand man, George Karras. George was telling me that he was watching my tape and was very impressed. He started selling me on Mike being a Raider but I was confused because I was thinking they would just draft him.
On the day of the draft, I then got another call from a Cowboys scout, Walter Juliff, who is still a member of their staff. Walter took the time to educate me that they wouldn't draft Mike but would want him as a free agent.
With twelve rounds at the time and about 336 players being drafted I thought for sure Mike's name would be called. However, the phone never rang!
After the draft, Karras called me again and the local Raiders scout who lived outside of Corpus Christi was, simultaneously recruiting Mike. After taking a good look at the Raiders roster and noting an aging Todd Christensen and a backup TE who was also their deep snapper, I figured it was a great place for him to make the team.
Mike went into camp with the Raiders and caught every single pass thrown his way. Now the Raiders had a problem. Other teams were scouting Mike and they were ready to pounce if the Raiders waived him. So the Raiders did what most teams did back then to keep their young budding talent. They asked Mike to "take a dive" (aka fake an injury) in the last quarter of the last preseason game.
They told him that if he did that they would keep him on injured reserve for a year, pay his full salary and he would develop and make the team the following year.
We agreed to the strategy, the last game rolled around and Mike wasn't getting a chance to fake the injury. They eventually had him run down on kickoff towards the end of the game. They told him to stay clear of the runner and limp and fall down. However, the kick returner was running straight at him and he ended up making the tackle and got so excited he start celebrating and forgot to fake an injury. Mike eventually starts running off the field and then it looked like a sniper hit him. He obviously remembered his script before getting to the sideline, and fell to the ground grabbing his ankle (which he did slightly hurt earlier in camp).
In Todd Christensen's 1988 campaign as the starter, the injury bug caught up to him and the table was set for Mike to become the starter the following year, which he did. Mike caught 27 passes, had an 18.5 yard average per catch, scored 3 TDs and was even AFC player of the week.
Mike then started to refer me to teammates Tim Rother, a 4th round pick from Nebraska, Derrick Gainer, an 8th round pick from Florida A&M and RB Vance Mueller, one of Al Davis' favorites.
By 1990 I had several Raider players and started picking up clients from around Texas. Before I knew it my sideline business grew into a full time business after landing 2nd round OL Todd Rucci from PSU (Patriots) and 3rd rounder OT Earl Dotson (Packers) from Texas A&M-Kingsville.
I have to really thank those early guys for taking a chance on me, especially Dyal, Rucci and Dotson. There were more experienced agents at the time they could have gone with. As a matter of fact, Dotson signed with an agent out of Dallas who gave him a signing bonus of $3,000. After thinking about for a few days he eventually returned the money, fired them and hired me. I went on to make him the highest paid OL in the history of the Packers and one of the highest paid right tackles in the NFL (at time of deal) on his second contract.
An agent's first client is the hardest one to get, and sometimes the most important.
Side note:
I have a tight bond with all of my clients but those early ones are very special. Now I get to see their son's play and may even represent them someday.
Mike Dyal's son, QB Cade Dyal, is in the 5A Texas High school playoffs (Kerrville-Tivy) and can play in the championship in Cowboys stadium if they keep winning.
Todd Rucci has two massive athletic boys that are tearing it up at the middle school level and already look the part.
Former client, Chiefs cornerback coach and friend Al Harris' son, Al Harris Jr., is starting for South Carolina at Corner as a true freshman. Like the old man, playing lots of press and wearing number 31.
Follow me on Twitter: @Jackbechta