March 12, 2013 -
Jack Bechta
Let the recruiting wars begin!
I happened to run into to Eagles GM (Tom Modrak) at a fine cigar bar in Philadelphia after he just landed free agent RT Jon Runyan. Tom and then HC Andy Reid had a euphoric after-glow on their faces from the commitment Runyan gave them just hours earlier. That evening Modrak told me that it was the greatest recruiting efforts that he was a part of and they felt Jon would be an important piece of foundation for years to come (which he was).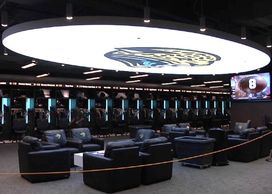 Amenities can be part of the sell as well.
Landing any free agent in 2000 was a challenge for the birds. Veteran stadium and its turf was the worst in the league, there were giant rats running around the office and locker rooms in broad daylight, and they just came off a 5-11 season. So the plan was to be honest with their shortcomings, sell the people whom Runyan would be working with and even enlist their own wives to help out. The Eagles front office and coaching staff went all out to land Runyan. The goal was not to let him leave Philly and sign him before visiting another team. So they prepared every one on the Eagles payroll to get involved in the process. So when Jon and his wife visited Philadelphia they were treated very personally but also like royalty.
The first night at dinner I was told that Jon and his wife really hit it off with Tom Modrak, Andy Reid and their wives as well. They learned as much as they could about Jon and his wife before the visit and made sure that they would get to see the best that Philly had to offer. There was a trip to turn some dirt at the future location of Lincoln field to help sell the future. There was even a message on the outside digital billboard from the Sixers welcoming Jon just as he was being driven by. Jon and his wife were quickly sold, and canceled all the other visits as well.
Now keep in mind that the Eagles did make him the highest paid lineman as well and part of that was because Jon sold himself as well. Before he came to Philly they loved him as a football player but hardly knew him as a person. After spending time with him, Jon impressed everyone he met enough for the Eagles to open their wallets wider than anticipated and make him the highest paid lineman in the league. Also known as the premium a team pays for not letting the player leave the city.
According to one former Eagles front office man, winning the recruitment of Runyan led to the Eagles signing the next twelve free agents they brought in over the next few years.
So who are some of the best recruiters in the business?
Mike Tannenbaum of the Jets was probably one of the best. Mike had a relentless but disarming style that could wear down a player and his agent to saying, "Yes". Mike would do his homework and get to know everything there is about a player. I've had my own experiences with Mike and other agents tell me he was a pit bull. If he got your player to visit the team it was rare they would ever leave without signing.
CONTINUE READING ABOUT FREE AGENTS ON PAGE TWO...