May 03, 2011 -
Jack Bechta
Lockout could be blessing for undrafted free agents
Historically, the moment the sixth round starts, so do the calls to agents from teams laying the groundwork to sign undrafted free agents. Coaches, scouts and GM's start recruiting the player and agent to sign with them immediately after the draft, even trying to get a verbal agreement to a deal prior to the draft being over. With lockout eliminating the annual worst two hours of the year for an agent after this years' draft, business will be conducted somewhat differently this year. When the time comes, there will still be a feeding frenzy to sign these players but both sides will be more prepared - and it could benefit the undrafted free agents more than ever.
I always thought there should be a one or two day delay in signing undrafted free agents after the draft. Myself and other agents strongly feel that the current system moves too fast, without structure and is unfair to the group of about 400 players who eventually get signed.
I personally have a few guys who didn't get drafted and I am using the delay and the time to my advantage to forensically go over each and every team's roster and their picks to see where the best place is to place my clients. As opposed to being rushed and pressured into making a quick decision before the team in question moves on to the next player, this year, agents will have time to be calculating in advising their clients where the best place is to sign.
I make it a habit to keep an "undrafted short list" prior to the draft for every player I represent just in case they don't get drafted. It's better to have a plan, than have to be reactive to the situation. Furthermore, by going over an "undrafted free agency plan" with your client, it helps to remind them to adjust their expectations and prepares them for the worst-case scenario. Having a free agent plan in place for your rookies doesn't always guarantee that you, as an agent, will make the very best decision possible. And this decision is important because it may be the only shot a player ever gets to make a team.
If the signing of undrafted free agents is allowed soon and is allowed before the signing of veteran free agents, it could actually work in the undrafted free agents favor. A careful of study of what teams did and didn't do in the draft could translate into a great opportunity to match a player with the perfect team.
Seasoned agents, especially those who really understand the personnel landscape, coaching demands and current system of each NFL team can place their client in a position to have the best chance to succeed. I humbly admit that there are a few decisions I could take back in my early days as an agent. Although I did my homework and tried to listen to every team's pitch, the current system and time restraint can be counter productive in making a good choice for your client.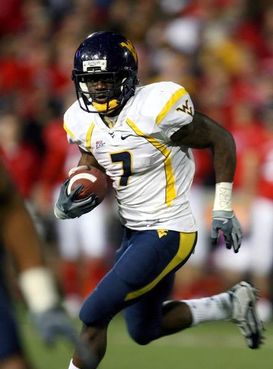 ICONUndrafted free agents like Noel Devine will more likely be placed with the team that they're best fit to play for.
On the flip side, the delay means NFL teams can also be more surgical in selecting who they think is the very best fit. There are times where a team has "accidentally" or even purposely signed two players at the same time who play the same position. One could have been their first priority choice and other their last choice but they need a body at that position for camp. What's worst is that when this happens teams have been known to cut a guy before or after their first mini camp or purposely fail them on their physical. Although ruthless, this does happen.
There are about 400 or more players that are normally signed as undrafted free agents, about 75 or more of these players usually had "draftable" grades. These are the guys that 10 or more teams may go after at once and even offer premium signing bonuses to. With more roster spots available right now because of the void of veteran free agent signings, the perfect storm may come with a silver lining for this group that is waiting patiently, but nervously for their turn at being claimed by a team.
Follow me on Twitter @jackbechta