December 02, 2010 -
Jack Bechta
Lockout will hurt draft class
The draft class of 2011 may go aimless without the oversight of the NFL.
In 2010, it was the 235 potential free agents who fell victim to the CBA and the battle between labor and management. Their chance to pursue free agency was blocked by a trigger in the CBA that kept them as restricted when the owners opted out. Next year, it will be the rookie draft class who gets left out in the cold until a new deal has been agreed upon.
Although the NFL and the NFLPA have agreed to allow the 2011 draft to go on as scheduled, each NFL team won't have access to their rookies until a new agreement is reached. So where does that leave the rookies if the lockout goes into the regular season?
For one, there will not be any rookie mini-camps or orientations that are usually the first step in getting rookies started in their new career. There will be no team mini-camps or offseason workouts which are used to get rookies familiar with the playbook and the way the team operates. There will be no offseason training programs which are used to physically condition and develop rookies. There will be no opportunity for position coaches and coordinators to get a gauge of the skill set of their new players. There will be no access to trainers for any rookies who need treatment on lingering injuries left over from their college season. There won't be any interaction with the team's Player Development Director and rookies. The Player Development Director is responsible for helping a player with making the off field transition from college to their new NFL city.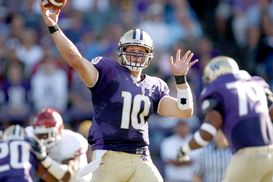 Jake Locker may have limited time to develop into a starter due to a potential lockout.
Due to a potential lockout, the 3 month window that teams usually have to ramp up their rookies will be lost. Therefore, once a new deal is struck, we could have a situation where rookies have just a few weeks to learn a system, team operations, and their way around a new city. If this situation comes to be a reality my guess is that rookies will lose out on playing time and opportunities to have a solid rookie year. Furthermore, a team picking a QB early in the first round will be restricted in using the player until he works through the playbook and has developed timing with his receivers and running backs.
If there are no preseason games, the guys who may really get lost in the shuffle are undrafted rookie free agents who need a full camp and the games to show what they can do.
Any new coaches and staffs that are hired will also be at a great disadvantage because they won't have an offseason to implement their systems and operation procedures.
The offseason allows teams to get to know and start evaluating their rookies. The 2011 rookie class will be this year's victim of the CBA battle.
As an agent who is actively working to represent players in the 2011 draft, this year, I have to formulate and execute a "lockout strategy" on top of my usual rookie service. I have to make sure that my 2011 class has a structured environment so they can continue to learn and develop. NFL teams usually keep players conditioning and learning all the way up to a few weeks before camp. That responsibility will now fall on the agent community. If there is no offseason plan whatsoever, there will be about 250 draftees and 300 undrafted players with a lot of time on their hands and little direction on how to get ready and compete with the veterans.
Without any mini-camps, offseason conditioning, and hands-on coaching, the 2011 draft class will be learning on the fly and many will not see the field because of it.
Most agents and agencies usually pay for 6 to 8 weeks of combine training for their rookies. This next year however may be alot different where agents have to provide training and tutelage through the end of the summer. I have my plan in case of a lockout and I'm sure other quality agencies do as well.
Follow me on Twitter: @jackbechta