September 07, 2011 -
Jack Bechta
Making Moves
Are agents having too big of an impact on the shaping of NFL rosters?
Imagine this scenario: An agency represents the GM, head coach, the offensive coordinator, the all-pro star QB, RB and 4 other starters on an AFC West team. He also represents a coveted free agent offensive lineman the team wants to sign. Another AFC West team in a rebuilding phase wants the lineman badly and is willing to pay more than anyone for his services, plus, he is a natural fit for the blocking scheme and he will automatically become a building block centerpiece face of the team.
Even though it may be in the best interest of the player to go to the re-building team, the agent signs him to the team where his top management and player clients currently reside. A very similar scenario has not only happened but it is becoming even more prevalent as agents/agencies represent management (GM's, Directors, Coaches).
Making moves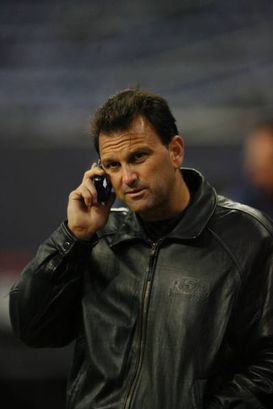 Agent Drew Rosenhaus has the ability to stock a team, if he so chooses.
On the other side of every personnel move made by an NFL team is an agent representing the players who are being moved around like the pieces on a game board. Granted the biggest stars in football rarely move but football is a team sport and every player on the roster can impact the success or failure of any team.
When a player gets cut and there are no teams interested in the player there isn't a whole lot more that we as agents can do. However, when teams are trying to move players from the active roster to the practice squad, or sign a player from somebody else's practice squad to their active roster, we are right in the middle of it calling shots. When free agency rolls around, the agents dictate the market. I don't want to glorify our role but the bottom line is that agents help shape rosters and can have a huge impact on how talent is distributed throughout the league.
So can agents be biased and do agents have their favorites? Absolutely!
Although money usually always rules the day and is the number one factor in signing talent, it isn't the only factor. Agents have the ability and will at times shut teams out from competing for their clients. And many times when all things are equal on the compensation level, the biases usually kick in for the agent. And he/she will send his/her client to the team they have the most comfortable relationship with even though its not always the best place for their client.
Conflict of interest
In the standard representation agreement between agents and players there is an area where the agent must disclose to the player what NFL management individuals they have as clients. The purpose of this disclosure mechanism is to alert a player that there may be some conflicts of interest. It's not uncommon now for player agents to represent head coaches, coordinators, GM's and even personnel directors looking to make the jump to GM. So there may be times when an agent will play favorites to his own management clients at the expense of the players best interest. With some agents/agencies representing over 100 star players they can easily help a GM or owner stack a team. On the contrary, if an agent doesn't like a particular team's management he can steer his clients away from that team and make it hard for them to be competitive. Believe it or not this happens more than anyone likes to talk about.
I know in my early days as an agent I probably had a tendency to steer players toward certain teams. I once had seven clients (out of 17) all at once on the Bucs because I liked Tony Dungy, Rich McKay, Jerry Angelo and the whole staff way too much. There was a comfort level there that could easily win out over another team. On the other hand, there are teams that have out right lied to my clients and me and have operated in a manner that was less than professional. Those teams will always go to the bottom of the consideration list.
Football knowledge
There are several experienced agents who have played in the NFL and have a great knowledge of the game, which can be extremely beneficial to placing their clients. However, there are way too many agents who don't have enough football knowledge to help put their clients in the best possible place to succeed. I hear this from GM's all the time about how many agents do their clients a disservice by placing them in situations that aren't necessarily ideal. For example, a linebacker may be a perfect fit in a 4-3 defensive scheme but may struggle in a 3-4. The same goes for defensive ends playing in the two different defenses.
A cornerback may be more comfortable playing man press than in a 3-4 where he is typically in zone coverage off the receiver. Playing in Indy's offensive line pass blocking scheme is way different than what the Cowboys ask their blockers to do and require different skill sets. Knowing how the X 's and O's work and knowing how your client fits a scheme can be extremely important to a player's ability to excel.
I am confident in my knowledge of the game where I'm not afraid to challenge Bill Belichick, John Harbaugh or any coach or GM as to how they want to use my client(s). I want to know up front where and how they want to use my clients and always make them explain their plan. I think most agents usually follow the money and comfort level without asking the team's decision makers for their specific plan for their player.
There are also other factors that influence how agents manipulate the balance of power throughout the league. Having great relationships with the management can be beneficial for placing clients, and most agents use these relationships for the benefit of their clients. However, there are situations right now where some agents are overly chummy with owners and GM's and thus treat players like widgets in order to satisfy their long-term relationship with the power people. An NFL career is extremely fragile and the decision an agent makes can easily extend or shorten the length of a career. When an agent makes a decision based on his/her club loyalties, his or her own biases and/or lack of football knowledge, it's usually a bigger win for the team than the client.
As always, for teams who draft well and develop players they are less susceptible to relying on agent relationships. However, it never hurts to build alliances with the most powerful agents.
Follow me on Twitter: @jackbechta