November 18, 2010 -
Jack Bechta
New media and the NFL
I just spent 3 days in New York attending the Sports Business Journal Sports Media and Technology Conference. The conference was attended by all the major players in sports programming and distribution (Comcast sports, Fox Sports, Direct TV, Microsoft, ESPN, Turner Broadcasting, CBS Sports, Time Warner Cable NBC, Verizon, Yahoo and many more).
As an agent, I need to be on the forefront of new media so I may better serve and promote my clients. It's important for agents to understand and communicate with the mass media. I know my own conversation with players and coaches is changing. Phrases like "public relations" are being replaced with "social media strategy". Many players and even coaches have already gained momentum in using the media to build their personal brands independent of their team.
Twitter and Facebook have become powerful and popular tools for athletes to get direct access to their fans and mass media while controlling their own content.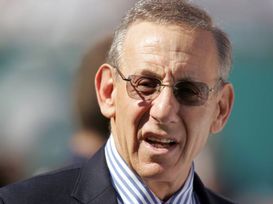 Dolphins owner Stephen Ross is at the forefront of the campaign to provide NFL fans with greater access to in-game content.
The new challenge for big media and the NFL is how they will be dividing the distribution methods, including streaming video for smart phones and ipads. When many of the network deals were negotiated several years ago there was not any language for smart phones, ipads, or google TV. Fans want instant access to their teams, fantasy stats, and scoring updates on whatever screen they prefer. The NFL wants to deliver it but the big question remains; will the major networks be comfortable with it and can they participate without cannibalizing their own programming?
While at the conference I had a hearty talk with Dolphins owner Stephen Ross. He wants to give the fans in-game access via FanVision which is handheld device that gives you stats, replays and potentially other games. His level of commitment is so high he bought the company and has already partnered with 12 stadiums around the league, as well as Michigan and Miami University to provide the service.
With the technological advances being made in all these smart screens, it means that there will even be more ways to distribute the NFL product. More ways of distribution also means more partnership deals which equates to even more revenue for the NFL and the players. The pie is still expanding.
One of the most interesting and consistent conversations I heard was about the ipad and how it is the new frontier for delivery. One could sense that everybody at the conference was trying to quickly develop ways to be the first to the marketplace with their content. The other reality is that technology is changing so fast that there is still a wild-west feeling of excitement and confusion with no immediate plans in place for the ultimate delivery of the content fans desire.
Follow me on Twitter: @jackbechta