August 24, 2011 -
Jack Bechta
NFL salary trends
As an active NFL agent with 23 clients, I have to stay on top of every contract printed in order to stay in tune with the marketplace. In doing so, I am seeing a trend develop that will most likely continue for the foreseeable future. The salary growth at four positions will escalate at a much greater rate than all other positions.
Why is this happening?
No team wants or can afford "dead cap dollars". That's money that counts against the team's cap but they are not getting the services of the player(s) it was paid to because of injury, release due to lack of performance, or even suspension. Dead cap money can also be associated with poor front office management such as bringing in high priced free agents that don't work out, and then parting ways with the player with several years left on the contract. For teams with a large percentage of dead cap dollars, it could be a sign that they depend more on paying a premium for free agents because they are not hitting on or developing their draft picks. If you are an owner, you hate seeing dead cap dollars because it means you are not getting a return on your investment and it limits your team's ability to sign new players and keep the best ones you currently have.
In order to avoid dead money you want to invest into players that have the ability to play a long time at a high level and have a high level of durability.
Where will the money go?
When was the last time you saw a star QB or even a QB draft pick hold out? It's been a long time because the position has and will continue to get paid very well. As a matter of fact, they can write their own checks. The only thing stopping them from making $25 to 35 million a year right now is that they know by doing so they will cannibalize their team's talent pool by not leaving enough cap dollars to balance out the team. Peyton Manning and Tom Brady are smart enough to know that if they demand too much they will surround themselves with inferior talent and continue to lose their best players to free agency. The average salary per year for the top ten QB's is $15 mil.
It's only natural that the next best place to spend those cap dollars is protecting your QB investment by securing your best O-lineman. The Joe Thomas deal was not necessarily shocking to the agent community but the thing that did catch our attention was the amount of the guaranteed portion. It's obvious that the Browns brass felt Joe was a good place to park their cash. Joe was rewarded because he has never missed a snap and has showed to be the type of individual to have too much pride and work ethic to ever take a play off, regardless of how much he is being compensated. The fact that teams will be required to spend a higher minimum of cap dollars to meet the targets set forth in the new CBA will have teams focused on their most durable players, not just their best players.
The demand and salary for top corners is growing congruently to the wide receivers they cover, and may eclipse those recievers salaries over the next few years. The top ten corner salary averages $10 million while the receivers also average $10 million.
Since corners have little contact they have higher career longevity. In addition, playing on an island they have nowhere to hide if they want to give less than a maximum effort. Corners know that if they take a play off they will be toasted and the play will be seen over and over again on Sportscenter for the rest of the week. Their high degree of accountability and risk of embarrassment makes for a good investment. Look for these numbers to keep climbing north.
Defensive ends (and the 3-4 pass rushing LB) is another position that has a good history of durability and production. Getting to the QB makes everyone else's job on defense a lot easier. There is also something to be said about the profile of the type of individual who plays this position. They are usually high motor guys who rarely get out of shape and play well into their mid-thirties. The APY salary for this position is about $10.5 million.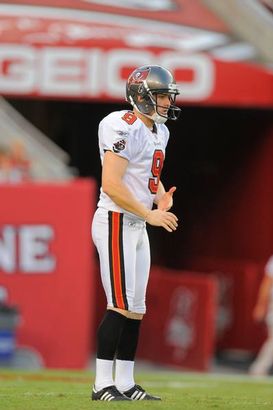 ICONThe Bucs recently signed Punter Michael Koenen to a 6-year deal worth $19 mil.
One position that is finally getting recognized as a weapon after being taken for granted for a long time is the punter. A good punter can significantly dictate field position throughout a game and get his team out of trouble when backed against the opponent's goal line. And of course, since they can't tackle to save their own life, they have long careers. The five million dollar a year punter is just around the corner. The APY salary for punters is $2.7 million.
What positions may stay flat or even trend south?
As the rich get richer, that money has to come from somewhere. I foresee the monies for TEs, RBs, LBs, centers, safeties, fullbacks and kickers being used to fatten the salaries of the positions I noted above. Now granted, great players regardless of position, will always be paid well but there will be fewer paid well than in the past.
I foresee defensive lineman contracts being handled with more scrutiny, as any coach will tell you these guys have the ability to get out of shape the fastest and take the most plays off. Although the great ones will get paid, you will see more "carrot and stick" type deals versus Albert Haynesworth type deals than we've seen the last few years. Look for shorter-term deals for the interior lineman and more players being rented for a year.
The glut of free agents that hit the market place this year allowed teams to dictate contract terms with many players playing under one year deals. Thus, teams are currently renting players and if this trend continues there will be a larger number of free agents available for at least the next four years.
I believe that teams with the highest turnover will lack the chemistry needed, which is the glue that makes a team special. The teams that draft well and develop young players will have a continuous nucleus, better chemistry and be less reliant on free agents and having to do risky deals that could lead to dead money.
Follow me on Twitter: @jackbechta