November 09, 2011 -
Barry Dorey
NFL's Fountain of Youth
There are sixty NFL players that are 34 or older currently on NFL rosters. I have and currently represent a few of them. With the average career span being less than 5 years, the constant wear and tear on the body, and the steady flow of new talent to fill rosters, it's truly amazing that any of these guys are still playing. So what's their secret?
In talking to several of these players, their personal trainers and a few NFL strength coaches, there are definitely some consistencies on how these guys operate.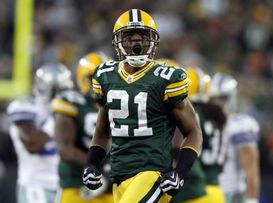 Woodson changes it up with boxing and "muscular confusion"
Intensity Level – One commonality these guys have is their level of intensity in their offseason training rituals. There's a major difference between just working out and pushing to fatigue and failure. 36 year old Al Harris tells me that he pushes himself mentally and physically in the offseason to the level he pushed when he was in college. He says the key for him is to not relax, don't let off the throttle and keep pushing the envelope. If you ever back off the intensity you're done. It will show up during camp and you can't get it back. Brian Dawkins workouts are designed to match his level of intensity.
Activity - For 35 year old client Kelly Gregg he feels his secret is staying active. The most time he has ever taken off is 2 weeks after the season, then he continues to push himself. He said, "I can still bench press 430 pounds five times or more and I put myself through gassers (a back and fourth sprint drill) each summer to get an idea of where I am compared to previous years. I am always thinking about the game to keep me mentally motivated, how everything I do with show up at game time."
Players who keep their weight consistent and never get out of shape have a better chance at playing for a long time.
Changing it up – Several personal trainers have told me that they always change up the challenge in the offseason. If players keep doing the same workout each and every year they get bored and the muscle memory carries them through. To shock and surprise, the muscles and the mind helps keeps the body ready for everything. Todd Durkin who works with LT, Drew Brees and many other thirty something NFL players constantly changes some components of his methods on a weekly basis to find new challenges for his clients.
Year round body maintenance – Players who are committed to doing the little things year round will definitely add years on to their careers. Nutrition filled eating habits; stretching, natural supplements (high on omega three fish oils), yoga, ice plunges, and elongating the spine (there is a machine that does this) helps keep the body from completely breaking down. You would think it's a no brainer for guys to do this but when they get done with practice they just want to get home, relax or spend time with their families.
I asked Todd Durkin about the methods his clients use: "The guys I've seen that are having success into their thirties are totally committed to a comprehensive year round program. The guys getting proper amounts of sleep and doing body work both for recovery and preventive, are the guys who don't miss games and play 12 years or more. Having a program in place is like having a full or part time job. We see our clients like LT travel with an ART specialist. Doing a combination of pilate's, yoga, infrared sauna treatments, tissue work, foam rolling, stretching and eating right on a weekly basis will elongate a players career. Many top players even have personal chefs, get their blood work done to check for allergies and eat accordingly. It really is a life style commitment."
The desire to compete – The biggest intangible component to longevity in the NFL is the desire to play on Sundays, and the challenge in competing against the best. At 36, Ray Lewis is a great example of maintaining the desire to compete, play against the best, and win.
Each and player I spoke to says luck may play the biggest role in a long career. Avoiding knee, neck and spine issues are the keys. It does seem that when muscle tissue starts breaking down, pulls and strains become more frequent. Those set backs begin to take a mental and emotional toll that most players just can't overcome. However, creating some of your own luck by keeping the body running a high level has given our aging veterans an extended career.
Follow me on Twitter: @jackbechta