October 15, 2014 -
Jack Bechta
On the road with an agent
One perk of being an NFL agent is attending a lot of football games. Yes, it's work because I'm usually visiting a client or two. However, being a football purist I like to enjoy the local scene, take in the regional food, marinate in the pre and post game energy, and admire tailgating at its best.
A typical schedule for an agent visiting a city for a game weekend usually goes something like this:
Saturday: Arrive before 4:00pm, check into hotel. Between 6:00pm and 8:00 pm, I'll have dinner with a client from the visiting team. From 8:00pm to 10:00pm I'll meet with the visiting team GM, salary cap manager, and/or pro scouting director. An agent may also visit with a player's family member, former retired client and/or one of the home team's front office execs. Both teams usually have team meeting starting about 9:00pm and curfew shortly thereafter.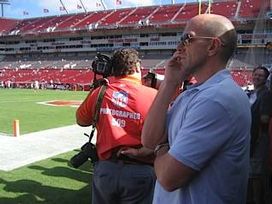 Pre-game on the field is a great place to catch up with team execs.
Sunday: Assuming a 1:15 or 4:15 pm kickoff, game day for me usually looks like this: Grab breakfast somewhere I can watch the early games and still take in a local experience. I always try to stay somewhere that gives me a true local experience and is not far from the stadium. And every now and then, I stay with clients. I will arrive at the stadium about two hours prior to kickoff. I like walking around and checking out either the downtown area and/or the tailgates. I may even stop by a client's family tailgate and have a beer and/or bite.
My next stop, about an hour before the game, is the media will call window where I will pick up my tickets, pre-game field pass and/or post-game pass. I'll make my way to the field to say hello to team execs, owners and coaches I didn't see the previous evening. I may even chat with a network sideline reporter, home team PR director, and even a game official. I enjoy watching how each team handles their pre-game warm up, especially by position group.
Once kickoff begins, I'm in my seat experiencing the game and watching my client's every move. Simultaneously, I'm watching NFL Now on my phone via my Verizon plan. (For some reason phones seem to die faster in stadiums so I make sure I bring my Mophie to get some additional juice). During the game and on breaks (halftime, timeouts) I'm always taking note of who is advertising in the stadium and in the program. These advertisers may be good prospects for client endorsements/sponsorships.
After the game, I make my way down to the family room of the home team or outside the locker room of the visiting team. Here I visit with my client for a few minutes and usually see their families as well. It's also a great area to get some short but quality time with reporters, team execs, and or coaches.
After I say hello and good-bye to everyone after the game, it's usually out to dinner with the home team client. We usually go somewhere that is known for the local fare. Or, head back to a family tailgate within the parking lot. Other times, back to the client's house where someone is preparing a post-game spread. Whether it's dinner at a restaurant or their home, I talk to my client about the game, his injuries, his finances and/or endorsement opportunities.
It's important for an agent to visit his clients during game weekend. We can learn a lot of things to help guide our clients and create more opportunities for our clients. Such as how to build a local brand, which media outlets to trust, where to live or not to live, and/or which charitable organizations to affiliate with.
My favorite part of going to an NFL game is just taking in the atmosphere like Anthony Bourdain does when exploring a far off exotic city and culture. Watching the local fans enjoy themselves, tailgate, banter and cheer passionately is as much entertainment as the game.
Next week I will give you my top five NFL venues/cities to visit for a game.
Follow me on Twitter: @Jackbechta