May 11, 2011 -
Jack Bechta
One agent's UFA formula
Most agents won't admit it, but they despise having undrafted free agents (UFAs). Having an UFA usually means the agent made a bad investment in training expenses, and if the player does make it, it may even be a while before it's a profitable venture. On top of that, we are responsible for placing the player on the best possible team for him to succeed. And there's always the "suspicion factor" that can arise where an undrafted player or his family may look to place blame on the agent for the player not being drafted. Which usually leads to the agent getting fired if the player makes it big.
I on the other hand, am not of afraid of representing a UFA. Now I don't want many of them and yearly look to represent highly draft able players but usually I take just one projected UFA per year. Not a long shot mind you but a player I believe in and has all the skills it takes to make it.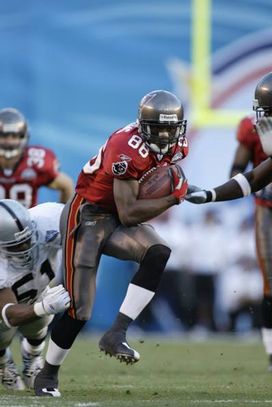 ICONKarl "The Truth" Williams was undrafted and went on to play 9 years in the NFL for the Cardinals and Buccaneers.
My first client, Raiders' TE Mike Dyal from Texas A&I wasn't drafted after 12 rounds and became a starter in just his 2nd season and played for 5 years. Several others who also made it: G Jorge Diaz, C Kevin Dogins, S/ST Curtis Buckley, LB/ST Heath Farwell, C Larry Moore and WR/PR Karl "The Truth" Williams. All these players had nice careers and some even scored healthy second contracts.
I don't fear having one of these guys because I usually did my homework on the front end before signing the player. Furthermore, I never promise that "I will get them drafted" like most agents do, but that I will place them in a position to succeed while limiting my investment, but making it good enough where the player can train and prepare properly.
This season, when the whistle blows for the start of free agency, I must be ready to place my clients in the best position to make it. Here's my formula for doing so:
Send the player to a stable organization. If an organization is on unstable footing a UFA can easily get lost in the shuffle. If there is little communication between the scouts and coaches the UFA may never even get a chance. If the coaches are coaching for their jobs in fear of being fired there is usually little interest in developing a UFA.
Send the player to the team with a plan. When a team is pitching me on signing a UFA, do they come with a specific plan for that player? It may be they want to develop the player to replace a veteran the following season. They may already have a job on special teams or a specific role on 3rd down. Great organizations have plans for every player on the 80-man roster, even if it's just to be a camp body.
Is there room on the depth chart? NFL depth charts at first glance can be deceiving. I must dig deep and look at previous year's practice squad players and the injured reserved list to see if there are good players being developed or penciled in for the same spot as my client. I also give consideration to the age, health and contracts of the current players on the roster. It's also important to know how many players a team carries (active/inactive/practice squad) at your client's position. Sometimes there is just an open spot that wasn't addressed in free agency or the draft.
The UFA client must get reps in the pre-season. Sometimes an agent may have to send a UFA to a team where he may most likely get cut but he will see a lot of play time in the preseason. Getting play time (tape) is crucial for a players' survival. If the player gets cut, having tape insures all other teams will scout him. Many NFL teams have predictable preseason routines for rookies and it's my job to know every one of them.
The position coach must be a good teacher. Former O-line coach Juan Castillo of the Eagles had a great reputation for developing undrafted free agents. So much so that the Eagles could depend on him doing so and not have to spend high draft picks on the O-line position. As an agent, if he wanted your lineman you better send him there. The position coach may ultimately be the deciding factor for player's chances of making it. I have noticed that some older position coaches won't put in the time to develop young players.
There are other factors that go into to the placement decision such as the team's retention history of UFA's and the signing bonus a team is willing to pay.
I know this week there has been a report from PFW about teams cheating and contacting agents by recruiting their UFAs. There is some truth to the report but being here in the trenches with a few quality UFAs, I think it has been sensationalized in a slow NFL news market. However, if a team is willing to risk being fined and losing draft picks to go after my UFA, its says a lot about their interest level in that player, so agents may want to take note of that, I know I will.
Follow me on Twitter: @jackbechta