August 03, 2011 -
Barry Dorey
One crazy week
October of this year will mark my 25th year as an NFL agent and last week will mark the craziest week of my career to date. With four free agents, two unsigned draft picks, 3 undrafted free agents (UDFA), and the surprise release of a veteran client to add more drama to the melee, it was an interesting time to say the least.
After getting an overview via conference call and slide presentation with the Players Association of the new CBA agreement on Monday July 25, the time was finally upon us to get the league moving again. However, what normally took months of preparation and conversations between agents and team front office exec's was to be executed in just five days.
Here's a glimpse of my week: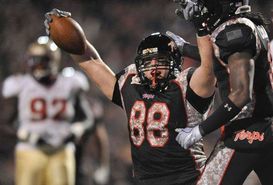 ICONAfter a fast-paced signing period, Will Yeatman signed with the Patriots.
It started on Monday late afternoon with the undrafted free agents. There was still a lot of confusion amongst NFL front offices as to when they could actually contact agents/players. I had one AFC north team call me to tell me they would call me at 10:00 am on Tuesday the 26th to talk to me about my client, TE Will Yeatman from Maryland. They were under the impression they could not talk to agents and thought they were actually cheating by calling me on Monday. Meanwhile at 6:05pm est, the Steelers called me in hot pursuit of undrafted safety Brett Greenwood from Iowa. They wanted me to agree to a deal. I said we have to wait until tomorrow after 10:00 am. Their cap guy said "no" because he told me that they just received a memo from the league saying that they can start negotiating contracts but can't sign until the following day at 10:00 am. It was obvious to me that several teams didn't get the memo. One NFC team sent his staff home on Monday in order to get an early start on undrafted free agents on Tuesday morning. Once they learned of the memo and start time (from agents) everybody was called back into the office to start recruiting undrafted free agents.
That GM I spoke to that night was pissed because everything he was told in regards to timelines at the league meeting in Atlanta just a few days earlier was thrown out the window. Teams like the Steelers got an early start and were on top of the timeline. They had their act together and I sensed they got the majority of the undrafted free agents they targeted.
I did receive interest from 14 teams on TE Will Yeatman, so I had a good sense as to who was organized and who wasn't. Since there were so many inquires about Will I took my time before selecting the team. I eventually chose the Patriots because Bill Belichick talked to me for 30 minutes describing his plan for Will in detail. I was impressed by how much he knew about Will and how many people he spoke to, including his former Lacrosse coaches. It was a tough decision as there were other attractive opportunities but I knew I had the head coach invested in the client's development.
Meanwhile that evening I heard from 20 teams on my three UDFAs. Needless to say calling each one back and hearing their pitch in a short window was challenging. A player and agent can't wait too long during this period as teams will quickly move on to the next guy on their list. All three clients made a commitment by Monday night. To my surprise, five teams contacted me on Tuesday morning for those players who already committed to other teams.
I got the impression that some teams were asleep at the wheel and were overly cautious not to break any league rules and were passive on recruiting UDFA's on Monday. Their misinterpretation of the rules definitely hurt them during this period. With the roster set at 90 this year, getting premium UDFA's was important.
On Tuesday, veteran DT Kelly Gregg called to tell me he was being released by the Ravens and that they may want to sign him back. I called their cap guy to see if they would make a run at him and at what price, but I never received a return call so I assumed they were done with him. I then put out press release alerting the league that Kelly will be available come Friday after the waiver period ends. Teams were not allowed to talk to me officially until after 4:00 est on Friday. So I waited until then hoping more teams would show interest. Sure enough I had 4 calls between 4:00pm and 5:00 est. About three hours before 4:00 I received a call from John Harbaugh letting me know they wanted Kelly back but at a reduced amount (less than half of his original salary of $3.5 million). I told John I had to first shop Kelly at his original salary before I would seriously entertain his offer. Good thing there was other interest because as of 4:00 the Ravens were the only firm offer I had and they could pull it at any time.
The Ravens were smart in waiting as long as they did to make me an offer because they knew I would have shopped their offer prior to Friday had they given it to me earlier in the week. I eventually settled on the Chiefs for Kelly as the need there for a veteran DT was transparent and I was able to duplicate his original salary for 2011. Other free agent signings went pretty fast. I signed CB Al Harris to the Rams on Saturday as Al was happy to reunite with a former Eagles coach Steve Spagnuolo. Al is smart by not pricing himself out of the league. Too many aging vets have too much pride to play for the minimum vet salary of $910,000. I was able to squeeze a modest signing bonus out of the Rams to make sure they had some skin in the game.
On Friday I also had played chicken with the Chargers on UFA OL Scott Mruzckowski. They originally told me they wanted him at the minimum but as we got closer to him becoming a free agent and other teams started making offers his numbers climbed north. The negotiation with the Chargers went into late Friday night as Scott headed to the San Diego airport to catch a plane to visit an AFC east team who was willing to sign him to a premium contract.
As for getting my draft picks signed it was like building an airplane on the runway. One of the cap guys had told me on Wednesday he was going to study the new rules of the CBA regarding rookie contracts. He admitted that he hasn't even had a chance to review them. An offer finally came about 36 hours before my client had to report to camp. My other offer came for my other draft pick about 18 hours before camp. The deals were easier to do than under the previous CBA deal. The contracts were pretty vanilla but there were still a few important items to haggle over.
All in all it was a one crazy week. I sensed a lot of frustration from some GM's about the system. Others just made the best of it without complaints. The most interesting comment made to me be one seasoned GM who has hardware on his finger was that, "the timeline, free agency, camp and other parts of the CBA were mashed together with total disregard for football operations". He said that; "none of the head coaches or GM's were consulted about any of the process, new practice rules or timelines".
From my vantage point, the teams who were organized, quick, aggressive and in tune with the new rules and timelines of the CBA made a significant difference on the talent level of their team. The 2011 season will definitely be the year of the front office.
Follow me on Twitter: @jackbechta