October 26, 2011 -
Barry Dorey
Rugby vs The NFL
While living in southern California I have followed rugby pretty closely and have befriended many current and former players. I have grown to respect everything that it stands for, let alone I just love the majestic brutality of the sport. As it stands rugby is not just a sport but also the world's greatest fraternity where the team concept reigns supreme over any individual's personal agenda.
The heart and soul of rugby is playing for your brothers. The antics of Ocho and TO would never stand a chance, as there is no tolerance for individualism.
What the NFL can learn from Rugby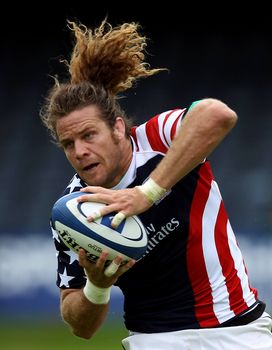 USA Rugby Captain Todd Clever has skills that could allow him to compete in the NFL.
An intimate atmosphere: While I was in London this past week for the Bears vs Bucs game, I attended an English Premiership League match featuring the Saracens and the Exeter Chiefs. The Saracens, one of England's legendary clubs founded in 1876, whipped up on the Chiefs 43 to 20. Sitting with the Saracens fans was like sitting with the family of the players. There is a unique dedication, intimacy and loyalty that differ from how NFL fans support their team. I'm not saying one is better than the other, just different. For instance, when a rugby club has a losing season there is more sympathy, compassion and understanding versus the sharp criticism that we see in the NFL. The two sports do carry some similarities on the field but differ greatly in the locker room and in the stands.
Chemistry and team building: The Saracens are notorious for taking good care of their players. For example, the team goes on several retreats a year together in the off-season for some R&R and serious bonding. The goal is to build an environment where players play for the guy next to them. It's a also a way for the owners to say "thank you" for their players' service and a way to continuously build team chemistry. On the contrary, NFL owners say thank you by rewarding rich individual contracts. Although Rugby doesn't have the riches the NFL does, they work hard to make their players feel appreciated. Even more importantly, building unselfishness, a team first attitude and chemistry is where rugby smashes the NFL.
Fostering life skills: While talking to some of the players I was shocked to discover that 85% of the team was pursuing graduate degrees facilitated by the club. It's actually mandatory for a Saracens' player under 23 to pursue an education curriculum. Additionally, the players take pride in being daily ambassadors for their team and sport. The team actually attended the NFL game together. The owners supplied the tickets. Many of the team supporters have an open door policy for internships and social opportunities. If I were an NFL coach or GM I would study how the Rugby way fosters team chemistry.
Tackling: As physically brutal as Rugby is, the players do a fantastic job of tackling with proper form, thus, preventing injuries, especially concussions. Tackling drills are a daily component of any rugby practice whether it's in season or off-season. In football, at any level, it just doesn't get taught enough and there is an expectation from NFL coaches that it should be mastered by the time a player hits the league. Maybe if we spent more time on proper football tackling techniques, fewer players will be hurt.
What Rugby can learn from the NFL
League Management: Each individual rugby club does a magnificent job in taking care of its own. Teams like the All Blacks, or Auckland Blues are significantly richer than many other clubs, mainly because each club is managed with significant differences. The owners and managers don't work on a collective level such as the NFL does by centralizing their powers to the commissioners' office and creating collective marketing efforts. The stuffed shirts who are navigating top Rugby leagues are missing the mark dramatically. They are also so resistant to change that they can't get out of their own way and hence have dramatically limited the profitability and growth of the sport. The bottom line is they do a great job in running individual teams but not a league. These powers that be in rugby need to study the NFL model.
TV and rights fees: There is no better league in the world than the NFL when it comes to marketing their media rights. Rugby does a horrible job at this and has challenges with the way their markets consume sports on TV.
Union leadership and structure: To my surprise, the Rugby Union does not collect player salary information and share it with the players. Although Rugby has only been a professional sport for about 16 years there is money to be made and shared by all. The need for a solid union must come about and the players have to come together and share their collective concerns.
There is no doubt that Ray Lewis, Junior Seau, Dallas Clark, Brian Urlacher along with Hines Ward would be dominant Rugby players had they taken up the sport. The bottom line is that our NFL players are superior athletes to Rugby players. However, some guys may struggle with the soccer-like endurance component that is needed to play the sport.
I do think there are many Rugby players who could probably play linebacker or TE in the NFL.
Todd Clever, captain of our USA team could make a good outside linebacker and a great special teams player. Check out his nose for the ball, his ability to tackle and his quick first step.
Twenty five year old rising star Hayden Smith of the Saracens could make a DE or TE. He's 6'5 265 and can run a 4.6. He also played college basketball for four years in the USA on scholarship. He only took up Rugby 3 years ago and is excelling. I think the guy can make the transition to football with one year of development.
If the NFL wants to keep marketing their product abroad they should consider developing some known ruggers in to NFL players. It will definitely accelerate the interest level from those who already follow rugby.
Follow me on Twitter: @jackbechta