March 28, 2012 -
Jack Bechta
Say goodbye to the Junior Rule
Unofficial word out of the players union meeting is that the junior rule is going to be eliminated. The obvious thought process was that the rule, which restricts and set guidelines for agent contact with underclassmen, had given unscrupulous agents an advantage over those who abided by the rules. Thus, elimination of the junior rule altogether is a good thing. It will allow those agents who practice with integrity a better chance to work with underclassmen. More importantly, underclassmen will have access to more ethical agents.
It's my understanding that college head coaches are behind this change and understand the dynamics of how the rule was negatively affecting the process. After all, college coaches are usually heavily involved in the decision making process of an underclassman when he decides to come out early. Of course, selfishly they would love to keep the player for another year and will pitch them to stay for their final season. However, if they know the player can be a first round pick, he has been good for the program, they will usually help him with his diligence and support him in his decision. Every now and then a head coach will be overly selfish and try to block the decision. But for the most part they understand that once a player's mind is made up there is no stopping them. When a player is rated to be a late round pick and can improve his stock by playing another year, head coaches usually will not support the decision.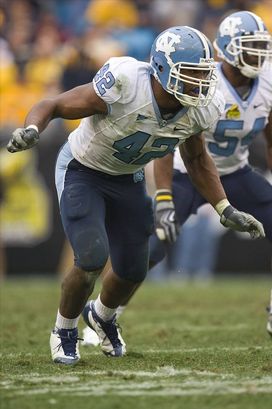 ICONWas Quinn persuaded to leave UNC early?
Some players would rely on agents for their intel and many agents were biased in encouraging kids to come out early with hope of signing that player. However, believe it or not, many agents are forthright and unbiased in their recommendations to underclassmen. Agents will usually call personnel men, have them study film and collect opinions/projections from their regional scouts and return an opinion to the agent who thus returns it to the player. The player does have a resource in the junior evaluation process that sends back a grade to the player and head coach. Unfortunately, the draft projection is vague at best. This system, although flawed, is at least formal and gives head college coaches and players another tool in which to make an informed decision.
The access to information today for college players is greater than ever and there are multiple sources in which to seek reliable opinions. Head college coaches still don't want those opinions coming from agents. Just ask Butch Davis, former head coach at North Carolina, whose program was overrun by four very aggressive high profile agents who got close enough to the seniors to be and two underclassmen, to persuade them to break the rules by accepting gifts of value such as trips and training paid for by the agents. And most likely encouraging them to declare early.
CONTINUE READING ON PAGE 2