January 16, 2013 -
Jack Bechta
Scouting the NFL scouting staffs
I'm down at the East West Shrine game in St Petersburg, Florida overseeing the progress, performance and the evaluations of my three clients playing in the game. It's my job to prepare and promote my players but also to learn and observe as to what teams are interested in them, what their opinions are and what they may walk away with after seeing them perform and interviewing them.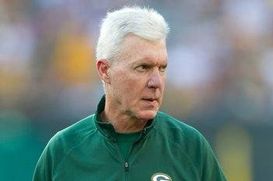 Packers GM Ted Thompson is in attendance at the East West Shrine Game.
All Star games are a great way for teams to discover strengths and weaknesses of a player. The East West may be full of draft picks from the second half of the draft but this is where teams can be successful by hitting on these picks.
I love the science of the scouting; it's the R&D department of NFL teams. In a chat with a few other respected agents, this is what we see:
The challenge of the process: There are approximately 116 players here divided amongst two teams, the East and the West. Each team practices at different times, back to back, once per day. I am watching just three of my clients and I admit it can be challenging to focus on what each guy is doing at once. There may be some one-on-one drills going on with receivers and defensive backs while the offensive and defensive lineman are also going at it on two separate sides of the field.
It's impossible to see every rep of every player let alone just three. Therefore, scouts must show up with a focused plan, a short list and an idea about the players they want to learn more about. The short list is usually put together by the intel gathered from regional scouts. Some teams show up with a list of just ten players while others may show up with a list of forty. While some teams have a definitive plan for what they want to extract from the week of practices others just send bodies (Scouts sent to the game to cover it leaving them with their own formula for evaluating players). There is nothing wrong with this method if a scout is older and experienced but there are a lot of very young and inexperienced scouts here who look to be rutter-less.
The biggest bellwether for evaluating the evaluators is measuring the intensity and sense of urgency they have about their jobs. I have some good friends who are scouts and the focused ones won't even stop to have a conversation because they are so in tuned to their responsibilities. Some will interview players for 5 hours straight. Others will sit and gossip with other scouts and agents during practice and into the evening.
The interview teams give players are also telling. My clients have told me that some teams are very thorough in their line of questioning while others seem to be just "checking the box", uninterested and gathering meaningless information.
CONTINUE READING ABOUT SCOUTING ON PAGE TWO...