January 04, 2012 -
Jack Bechta
Stanford Football: A Brand New Image
Jim Harbaugh heard all the talk from his NFL friends. He heard that Stanford players had a reputation for being soft. He was told that because they had other career options and it was an academic school that football always took a back seat to everything else. Scouts always would go into Stanford having to not only measure height, weight, and speed, but they also had to measure to what degree football was important to the prospective draftees. As one long time scouting director put it to me, "I didn't trust Stanford players until after Harbaugh got there."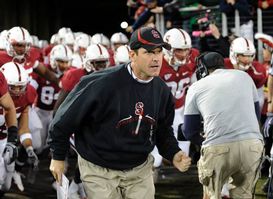 ICONJim Harbaugh created a culture at Stanford that Coach Shaw continues to master today.
So when Jim went to work on changing the Stanford culture he adopted a blue collar mentality that he reinforced in posters, on paper, on signage, coaches vocabulary, images, on T-shirts and even down to real lunch pales. I remember him saying to me when he took the job that, "these kids have to understand what it's like to really work and take pride in it". It was actually a daring move because it really didn't sync with the Stanford image of intellect, creativity and its international blue blood roots. The risk is that it could scare off potential recruits whose parents envision Stanford as an Ivy League alternative. However, the opposite occurred as the blue-collar image Jim was selling for his football program actually attracted a smart kid who wasn't afraid of hard work.
There's no doubt that when Jim took over the program he wanted to send a message to the players that you have to be mentally and physically tough to be one of his guys. His staff reinforced it by grinding on the players beyond limits they never experienced before. Then he did something simple and clever. He made the hard work they endured almost tangible like. He had players who were studying to be engineers, architects, scientists and chemists proudly identify themselves with riveters, ditch diggers and construction workers. It worked! And it's still thriving under Dave Shaw.
I asked WKU coach Willie Taggart what was the one thing that Jim and his staff did for Andrew Luck that they can say added to his success. He said that, "they helped push him beyond mental and physical limits that he himself didn't know if he could surpass".
When coaches take over a new program there always seem a lot of gimmickry with sayings plastered on t-shirts and signs in the locker room. The majority of the time, the sayings would fizzle after the first losing season. It didn't at Stanford, Jim and his staff, including strength coach, Shannon Turley, never backed off the blue-collar label. The players not only embraced it but also even took it to a new level.
As I have been interfacing with scouts and GM's about the Stanford players I am hearing words describing the players that are usually reserved for schools like Wisconsin, Iowa, Alabama and LSU. Words like "glass eater, fearless, driven, and relentless".
CONTINUE READING ABOUT STANFORD ON PAGE 2