March 06, 2013 -
Jack Bechta
The 25 million dollar quarterback
Those teams that have a 20 million dollar a year QB must have a plan to develop young and cheap talent.
Once the new CBA was inked in July of 2011, I predicted that QB's would eat up even larger percentages of the cap, and the gap between the stars and rank and file would grow further apart. Joe Flacco's new deal, on average going forward, will account for about 15% or more of the Ravens cap. Remember that there are 53 men on the rosters not counting inured reserved that are dividing up $123 million this year.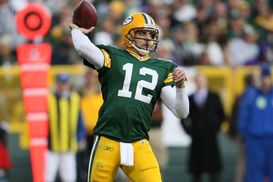 ICONIs Rodgers on deck for $25 million a year?
If Joe Flacco is worth 20 million dollars a year then what is Aaron Rodgers, Eli Manning, Andrew Luck, Russell Wilson, Tony Romo, and RG III worth? Does Aaron Rodgers have the right to now demand 25 million dollars per year with 50% or more of his contract guaranteed? Of course he does! Is he worth it? Of course he is! Will he get it? ABSOLUTELY! The fact of the matter is that the QB's take, as a percentage of the cap will continue to escalate at a rapid pace. QB's are getting harder to find and develop. As the game speeds up, coupled with the "win now" mentality, which has no patience to develop young QB's, the ones who excel and win will be coveted and paid handsomely. Do not be surprised if we see 4 or 5 QB's being paid 25 million per year within the next 24 months.
So what does this all mean for building and balancing a roster? For starters, look at Tom Brady's latest contract move. He restructured his deal to be more cap and cash friendly to the Patriots so they can keep and acquire much needed talent to stay competitive (i.e. Wes Welker). However, Tom is in a unique position to restructure his deal. If he can win another super bowl before he retires he would get exponentially more than what he gave back to the Pats. Not to mention his wife is probably bringing in a few bucks as well. Tom's attitude towards his teams cap situation is unique and don't bet on other QB's following suit. Players and their agents, me included, will try to get as much as we can for our clients and not worry about the rest of the roster.
It is likely that over the next few years, the top ten QB's and their salaries will account for 20% or more of their teams cap and cash. So, will we have teams that have a great QB surrounded by a bunch of average players? Yes, there will be some. Will the Ravens be able to afford their best players going forward? Probably not, there's too many of them. However, they will rely on their coaches to develop players and their scouts to find cheap talent. There will be more pressure on teams who pay their QB the lion's share of the cap to develop undrafted players. The conundrum here that exists for coaches is that the new CBA took away their ability to coach players up on the field in the off-season. Now pre-season and camp is the only time to really develop young players. Superior coaching staffs that actually "teach" will manufacture winning seasons with average talent.
The main reason why John Harbaugh outbid seven other teams to hire Juan Castillo as his run game coordinator (overseeing the O-line) is to develop cheap lineman into serviceable players. We all know Juan will develop late round picks and undrafted free agents. That's been his identity! The Eagles only drafted two 1st round linemen the 13 years he was the head O-line coach. Bubba Miller, Hank Fraley, Artist Hicks, Nick Cole, and Austin Howard were all undrafted free agents who he developed into solid starters. During 12 of those 13 years, the Eagles never had a drafted center and averaged two college free agents as starters in each year. The year the Eagles went to the Super Bowl they played with two undrafted free agents on the line. When C Hank Fraley was up for a new contract they let him go to the Browns via free agency and just developed another guy. Expect Joe Banner to put the same formula in place if he gets a QB he covets and an O-line coach he trusts to develop young players.
So what does all this mean? This formula saved the team from having to pay and/or draft top lineman so they can put the money elsewhere. So I would suspect as long as the Ravens have Juan Castillo they will not be drafting any lineman in the top three rounds for the foreseeable future.
As the QB numbers go up the positions that will suffer financially the most will be linebacker, fullback, running back, receiver and safety. Left tackles will still get paid but centers and guards will be developed from late round and/or undrafted college free agents. For those teams who have a 25 million dollar a year QB, they better have a plan on how they are going to scout, draft, pay and develop young cheap players.
Follow me on Twitter: @Jackbechta