November 21, 2012 -
Jack Bechta
The 5 best things about being an NFL sports agent
I have been lied to, deceived, used, humiliated, and have sacrificed a lot of my personal time and interest to serve others who play and coach the game. MOST AGENTS HAVE! Even as the skin grows thicker over time the agent business can be emotionally, physically and mentally painful. However, I have had a re-appreciation for my career over the last few years. Yes, it's a cutthroat field, highly competitive, full of egos on all sides, and can be highly stressful and very demanding. It's a career where the switch always has to be, "on".
Caution: If you ever thought about becoming an agent please read my five worst things about the job. It is hard work but it is also extremely rewarding. Here's why:
1) It keeps you close to the game: I grew up playing and watching football. Our family had Eagles season tickets for 20 years at the Vet. It was the sport that changed my life, made me a champion and gave me an incentive to go to college. It paid for school, gave me priceless experiences and eternal friendships. When I finished playing, I realized for the first time in my life that football was now relegated to being just a spectator sport. I couldn't stand it! It was painful not to be a part of it. My desire to keep it as part of my life is what motivated me to become an agent.
Being an agent can keep you extremely close to the game. And I mean really close! Yes, from a physical standpoint we get access to coaches, GMs and owners. We get to talk to front office execs every day and the players who play the game. I, like most active agents, know who is really hurt, whose locker rooms have chemistry, which coaches and GMs are jerks and which ones are winners. We know which owners are passionate about winning and those who just care about their net income. As an agent, you find yourself rooting for Coaches and GMs who you respect, befriending other players you don't represent and even fan bases that left a positive personal impression on you (I'm talking to you Packers' fans). Sometimes you know too much and you find yourself watching a game just hoping your client doesn't get hurt. But if you love and respect the game, you can't help but feel apart of it.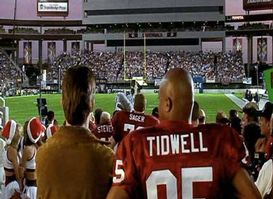 Pre-game access to the sidelines is always a perk.
2) Access: I have always been curious of and appreciative of all the aspects of a team from ownership structure to the equipment guy. It's not unusual for agents to get to know different professionals within an organization. And even those who work on the peripheral side such as in apparel, equipment, supplements and/or training. The more people you know in any industry the deeper the access you may obtain. The real fun is getting access to the people of the game. Listening to Bill Parcells tell a gut busting story about one of your clients, mutually planning a client's career with Belichick, talking marketing strategies with Jerry Jones, getting a hug from Al Davis after beating the Broncos and/or sitting front row at a Cubs game with a GM you like is all a reality in the agent business.
And yes, getting access to great seats, super bowls, locker rooms, sideline passes, Nike gear, Pro Bowls in Hawaii and the best of whatever city your clients are in has to offer, is easily accessible for a well connected agent.
3) Travel and experiences: I have been to 27 of the 32 venues in the league to see my players play. In addition, I have been to many college campuses over the years while recruiting new clients. To get to experience college and pro football in all its glory is the best. There's nothing like a good flyover to make me forget that I am working and start enjoying the atmosphere of the city, the stadium and the game. Watching Iowa fans color coordinate the stadium, Michigan State Frats throw some creative tailgates (discovering a shark bowl the hard way), Breakfast Club in action at Purdue, experiencing the Texas-Texas A&M rivalry, jumping up and down after a score in Madison, and understanding why Cal and Stanford hate each other, are all amazing experiences that I discovered while working. On the pro side, getting to Lambeau field and experiencing the NFL's nicest fans, and discovering the best that many of our cities have to offer is fulfilling on so many levels.
CONTINUE READING ABOUT BEING AN AGENT ON PAGE TWO...