August 08, 2012 -
Jack Bechta
The Agent vs. The Cap Manager
One of the most stressful jobs in the NFL is the salary cap manager. He or she doesn't get an untethered vacation, they are consistently clawed at by players and agents for more of the salary pie, and have to please a GM, a head coach and of course, their owner(s). In doing so, they are constantly negotiating year round to keep, acquire and cut salaries of players.
When you do business long enough in the NFL, you get a good idea of how these cap managers operate. Including their strengths, their weaknesses and their tactics. Conversely, they also get a feel for the style and strategy of the multiple agents that they must deal with.
Here are a few different styles and tactics that I have run across over my time as an NFL agent: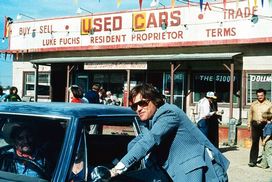 The used car salesman can't always get the deal done.
The Car Salesman: This cap manager has little authority to do a deal. He/she has to run back to the GM, or the HC or the owner on every move he/she makes. Just like a car salesman when he says they have to talk to the manager to authorize a deal. Ultimately, they are a mouthpiece in which a higher authority hides behind. They are usually given a budget or target to work with during a particular negotiation.
Even though this type of cap manager is a lower figure on the rung of power they can be frustrating to deal with because they don't have the authority to do the deal. They typically play good cop/bad cop with the agent saying things like; "my owner will never agree to that", "that's going to piss off the head coach if I ask for that", and the always popular "I don't think that will fly, but if I convince my GM to do it do we have a deal because I don't want to go back to them anymore after this offer".
The car salesman usually works for a penny-pinching owner who tries to spend as little of the cap as allowed by the CBA. We really saw these guys in action when the floor disappeared. They usually have two ongoing negotiations, one with the agent and the other with their owner on the same deals.
So how to deal with them?
Try to set the expectations of what you want with a higher authority first. Recruit the GM, HC or owner to buy into your goals and they will help get the deal done internally. Most veteran agents can get access to the higher ups (and we do) to help set parameters for the deal we want.
Let the car salesman know that if you walk from the deal, you will hold him/her completely responsible, thus putting more pressure on them to sell the deal up the chain.
The Judge and Jury: This cap manger has the authority to do it all. They may actually be the GM or VP of football operations. They are the most refreshing to deal with in the NFL especially if they know talent because they can put a value on your client without relying on several others within their organization to do so. They can make decisions without conferring with any authority. They usually work for an owner who wants to win at all costs and exhaust the entire salary cap each year in doing so.
You have to bring your A game with these guys. They don't beat around the bush nor should you. They appreciate knowledge of the market, a solid justification of why you are pricing your client where you are and they want to be kept in the deal. If they feel that they are being used to just up the price of your player, they may not deal with you on your next free agent.
CONTINUE READING ON PAGE TWO ABOUT CAP MANAGERS...