January 09, 2013 -
Jack Bechta
The agent's job from now to draft day
I am very excited that I have signed 5 new players to represent for the 2013 draft. It also means that I will be a busy man between now and the NFL draft which starts April 25th. So if you ever wondered what an agent does between now and draft day, here you go.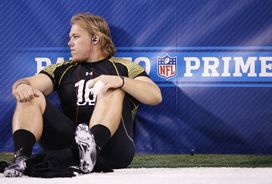 Playing the waiting game at the NFL Combine adds to the stress.
Training and Combine preparation: Over 20 years ago, Bruce Allen, an agent and now the GM of the Redskins, pioneered the idea of hiring trainers prior to the NFL Combine to prepare their clients for the physical tests that will affect their draft status. Today, everyone is doing it. If you are an agent, you have to be preparing your clients for their most important audition and interview: the NFL Combine in Indianapolis on February 20th.
The majority of seniors graduate in the fall of their last year. They take enough classes in summer and most have redshirted so they time their graduation for the fall of their senior year. That leaves them with the spring to focus on training. Once we sign a player, it's standard industry practice to provide a pre-combine workout plan. As a matter a fact, I estimate that agents collectively spend over 8 million dollars in getting over 500 players ready for this year's draft. The cost can range between $8,000 to $25,000 per player. The cost usually includes food, nutrition guidance, travel, lodging, transportation, massages, equipment, conditioning training and position specific training. We even hire retired coaches, GMs and/or players to counsel/coach our clients.
Most agents just turn their players over to a training facility while others really go out of their way to tailor a unique plan for each of their new clients.
All Star Games: The Senior Bowl, East-West Shrine, Texas vs The Nation, the NFLPA Collegiate Bowl, the Casino Del Sol, and the Raycom are games played throughout January where top draftable prospects battle each other in front of scouts. The action doesn't take place on the game day but during the first three practices. In the first three days of these games the sidelines are loaded with agents, GMs, regional scouts and scouting directors. It's our job as agents to not only have our clients prepared for the game but also spend time in promoting them to NFL personnel men. During these games we set up interviews with scouts, talk about injuries, off field issues and constantly educate the decision makers about our clients.
Pro Day: Each school has a pro day where each NFL team sends scouts and coaches to get an even a closer look at the players. For those who didn't garner a Combine invite this day is their only interview. It's our job to make sure they are ready for this day. Many players return to their university a week or two before their pro day and ramp up training with their strength and conditioning coaches. For those who already performed well at the Combine, they may just focus on their position drills.
CONTINUE READING ABOUT AN AGENT'S ROLE ON PAGE TWO...