June 20, 2012 -
Jack Bechta
The Agent's Pitch: What to Believe
There is a show on TV where a real masked magician performs a magic trick then shows the TV audience how it is done. The reason he is wearing a mask is because he is giving away all the trade secrets of the magic industry. I, along with the help of four other well-respected and experienced agents, will do the same.
A few years ago I was a top three finalist on a highly rated running back going into the draft. When the player picked another agency I asked his father where I came up short. His exact reply was that; "firm X had a better marketing package. They showed up (the first week of January) with over $100,000 in advanced endorsements already lined up and paid, they have him going to the Super Bowl for four days to meet sponsors and they seem to have a special deal in place with Nike."
This player did indeed go to the Super Bowl during his Combine training period, however, I did not see him in any ad campaigns in his rookie year and he slipped to the second round on draft day. The Gimmick: A marketing advance against future endorsements is an inducement to sign. The firm gives the money up front and then has to go earn it back in endorsements and appearances. It's a feel good transaction for the player upon signing but he unknowingly takes the risk of being shortchanged on his net endorsement revenues. Who's to say the player didn't earn $150 to $200k? He will never know.
The fact is this: Most top rated draftees (especially specialty positions) will easily achieve over a $100k in endorsements and merchandise revenue/value by just answering the phone and with the help of the NFLPA marketing arm on trading card deals. Nike and/or Under Armor don't do a deal with a player because they like the agent. Going to the Super Bowl isn't going to help training for the Combine and sponsors will tell you that its not the best time or place to meet players and do deals.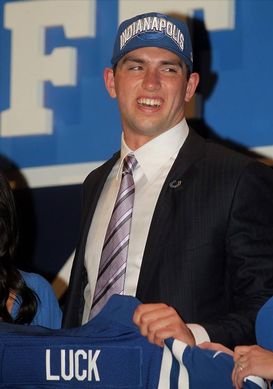 ICONNot all number 1 picks go with the megafirm.
Some players such as Drew Brees handle their own endorsements away from their mega firm so they don't have to compete against the firm's roster and the other QBs they rep, which I'm sure they do a great job for. So beware of the marketing advance and endorsement scams. A marketing plan for a player shouldn't be put in place before meeting the player and should reflect his values, interest and personality. Brand building takes time and sometimes doing endorsements too soon can distract a player from more important components of being ready for his challenging rookie year.
With the help of my current clients and clients of other respected agents, here is a list of fiction based lines they heard that are often used during the agents' pitch:
Fiction: "I can have you better prepared for the combine than any other agent". Fact: There are about 10 facilities in the country that are equally seasoned at preparing players for the Combine. Owning and promising a slot at the most well known facility isn't a reason for signing with an agent. Agents should match the appropriate facility to the clients' specific needs. Many college programs such as Stanford and Iowa, offer Combine training as good as, if not superior to these prep facilities. Furthermore, what the agent won't tell you is that many of the top-rated (first to second round) draftees can commit to the majority of these facilities before selecting their agent. The Combine prep companies want the highest profile players so they will burden the cost until an agent is selected and then the agent will eventually take over the expenses related to training. It is important to note that an agent does have to have the financial resources (about 25k per draftee), and enough experience to match and support a solid training plan.
CONTINUE READING ABOUT THE AGENT BIZ ON PAGE TWO...