August 28, 2013 -
Jack Bechta
The conundrum of self promotion
Chad Johnson (aka Chad Ochocinco) will go down in NFL history as one of the all-time kings of self-promotion. Terrell Owens also did some out of the box things that drove coaches and opposing fans crazy but endeared him to the camera and microphone. Call them flamboyant, selfish or even self-centered but they are now a few of the most recognizable former players in the country.
Would you recognize Carolina Panthers WR Steve Smith if you were sitting next to him on a plane? How about all-time leaders Jimmy Smith or Isaac Bruce? Probably not. Why? Because they did not get the TV coverage and endorsement deals that Chad Johnson received during his time in the NFL.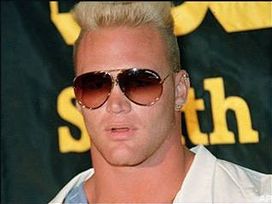 "The Boz" was known off the field for his personality, self-promotion and his hair.
The question is; if these other receivers, or any players for that matter, took chances and performed outrageous antics to get more camera time would they be making more endorsement money today? However, the real question is, should a player do things to bring attention to himself in order to make his name and face more recognizable to the general public? If so where are the lines when a player's self-promotion starts turning off teammates and coaches? And if a player crosses those lines is it worth it?
Chad became a darling by social media standards. He leveraged Twitter, Facebook and any other platforms that allowed him to give an opinion, start a conversation and or promote a product. He had some social cred and advertisers wanted a piece of it. I'm not sure how much money Chad made off the field but I doubt it's more than what he could have made had he chose not to promote himself over the years.
When Isaac Bruce, who played 16 NFL seasons, got into the back end of his career, he had a reputation for being an ultimate professional and solid teammate. In the 11th year of his career he signed a 3-year deal worth $15 million dollars. After playing 2 years of that deal with the Rams and being released in the third year, he then signed a 2-year deal with the Niners worth $6 million dollars. If he was labeled a guy who was a self-promoter I doubt the Niners or the Rams would have given him those types of deals so late in his career.
When a player decides that he is going to promote himself, he better realize that he may be cutting his career short on the back end. The endorsement market for NFL players isn't what many think it is and to be a social icon in hopes of making a few hundred thousand off the field may cost a player a few million in salary and vesting benefits. When the Dolphins cut Chad last year, he was their best receiver at the time. He worked hard as he always had but Philbin and company didn't want any of the antics or baggage that Chad brought to the team so they let him go. He has not found a job since.
I've had many clients like Deems May, Al Harris, Kelly Gregg, Jermane Mayberry, and Adam Treu get an extra year or two because they were hard working "team" guys. Spagnulo and the Rams actually brought CB Al Harris in at age 36 just to show the young guys how to work and prepare like a professional. He ended up starting before tearing an ACL.
One of the all time best NFL self-promoters was Brian Bosworth. "The Boz", as he was called, made a huge media splash while still at Oklahoma before the advent of social media. He was a very average football player by NFL standards but soaked up premium media attention and a few lucrative endorsement deals as well. He even once called out John Elway before a game and secretly engineered the creation and sales of "BAN THE BOZ" T-shirts to unsuspecting Broncos fans before the game. He only appeared in 24 games as a shoulder injury caught up to him. However, the flip side of his promotion efforts payed off (somewhat) as he made several million dollars making some very bad movies.
A few players like Warren Sapp and Deion Sanders were able to promote themselves but also have long careers. Mainly because they proved that football came first before their own self-interests. Players should think twice and do the math before they cross over into the world of self-promotion.
Follow me on Twitter: @Jackbechta