October 12, 2011 -
Barry Dorey
The GM's toughest job
Experienced agents have the pulse on which teams are great at developing young players and which are not. We see first hand how our clients get treated, coached and developed. We also have a good idea of which teams lack the environment, plan and system to develop young players. I, like many agents, have identified problems, rifts, and dysfunctional club settings that become a wasteland for young players. Where chemistry is non existent and a feeling of anxiety and desperation become the norm. Where losing turns into panic and adversity has everyone building bunkers and eyeing lifeboats.
As we hit the six-week mark of the season, those organizations with faulty foundations are starting to show themselves and the only plan left is to find a way to win now at the expense of everything else, and especially that of continuous development of the youngest players.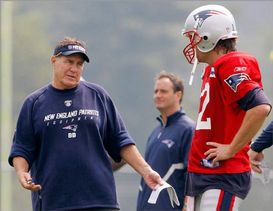 Tom Brady and Coach Belichick strive to create seamless team chemistry.
Being a GM or head coach in the NFL is not an easy thing no matter how much talent you have on your team. The challenges for the GM are particularly daunting, especially in-season when the wins are not coming and/or injuries are piling up. When this happens, power struggles begin to take shape as player personnel disagreements grow between the front office and coaches, especially as it relates to young players. This is usually the beginning of the end for the GM-Head Coach relationship. They quit talking to each other; the GM signs and cuts players without talking to the head coach first. The head coach starts working off of his own blue print with total disregard to the master plan. Disaster usually follows.
The GM's job
The GM has the task of designing a master plan, putting human assets in place to execute it, and then trusting them all to do their jobs. A GM must put together a profile of his scouts, coaches and players that fit his plan. He has to make sure that coaches, scouts, personnel directors, cap manager, trainers, strength coaches and even the owner are all working from the same exact script, communicating with ego-less maturity and staying on the same page. His job is to constantly be orchestrating his plan that produces wins now, without sacrificing the development of young players later. The idea is that once the foundation of the system is in place and working, it just gets serviced and tweaked along the way.
The Steelers, Ravens, Patriots, Packers, and Saints are probably the best examples of healthy systems working to produce wins while developing young players. The Bears, Colts, Chargers, Falcons, Giants and Eagles are also very patient teams where everyone seems to be on the same page with the system. Even though some of these teams aren't winning right now they are working single-mindedly. It's too early to judge some others with newer GMs.
Bill Belichick and Andy Reid have a unique situation where they have consolidated power. They do a great job in creating a winning chemistry. If you don't fit the system, you are gone.
Ozzie Newsome and Ted Thompson have plans in place that have little wiggle room. Ozzie loves that John Harbaugh spends a lot of time working with, developing and getting the most out of the bottom half of the roster. Packers fans wanted to hang Ted for moving on from Favre for starting the Rodgers era. Now they thank him for doing so.
We learned from the pre Bruce Allen era in Washington that talent does not make for a winning team. As a matter of fact, when the owner and front office knew they were going to move on from Marty Schottenheimer by week six in 2001, they stopped tinkering with the roster and wanted let Marty hang himself. Once they stayed out of his kitchen, Marty started winning and won eight of his last eleven games. Sometimes GM's and coaches can be each others worst enemy. Bruce Allen is a patient GM who has seen it all. He won't make an emotional decision, he wont get intoxicated with the quick fix lure of free agents and will make sure every one stays the course. Young players will get developed and eventually contribute.
The Head Coach
Keep in mind that many organizations have different structures but regardless, the head coach has the biggest impact on the wins and losses and the development of young players. He has the power to create opportunities for young players to grow, learn, and create a functional environment where there is an air of calm, patience, motivation and locker room chemistry.
There are many times when I will call three different decision makers (GM, cap guy, and personnel director) with one team and they all speak with one voice. With some other clubs, not so much! You would not believe how many times that a client, after just being signed by a new team, has told me that his new position coach didn't even know he was just signed. There are organizations where the trainers and equipment managers treat each player differently based solely on their star status. On the contrary, when a new player is signed with the Patriots, Bill Belichick will introduce the player in front of the entire team, give some background on the player and in doing so makes the player feel instantly welcomed and remove his hidden anxiety. The first day a player arrives at the Patriots, he can immediately sense that there is a defined plan for him in which every one was briefed on prior to him getting there. In addition, Tom Brady will seek you out the first day you arrive, introduce himself and tell you to come to him if you need anything. Brees and Manning have been known to do the same. This is called chemistry, the most important but yet most elusive ingredient that transforms a club into a team. It's the head coach's job to produce it and foster it. It's one big reason Jim Harbaugh is having instant success with the Niners. He understands the locker room and works with total transparency.
The Plan
When an area scout tells his organization that a potential draft pick will become a starter, the brain trust must define what that means. Is he a starter in year one, two or three? If it's year three, what is his role in the interim? How do we develop him? And most importantly, when and how do we decide if the player succeeded or failed? This process is ongoing and must be monitored in the off-season and in-season. These are all important details of the master plan.
Another challenge for GMs and Head Coaches is self-evaluation. Many times winning and having a super star like Peyton Manning, can hide a lot of weak links in a roster, a scheme and coaching staff. Take away Manning and the weaknesses in your assets become more transparent. But the Colts GM and Head Coach will not panic and stay the course on the development of their young players for the long-term best interests of the organization. They will use a Manning-less team to evaluate their current assets.
Having GM Buddy Nix back with the Bills has actually given a rebirth to a very old blueprint that has been used by the club for decades. They look to draft production over potential, do not rely on free agents, ID players with great football instincts, be patient in their development, and have little turnover in the staff and roster which creates stability. AJ Smith of the Chargers works from the same blueprint.
Like any successful business, it all starts at the top. The NFL is no different and one personality, one egomaniac, and a dysfunctional GM-Head Coach relationship can keep an organization in the loser's brackets for many years.
Follow me on Twitter: @jackbechta