September 11, 2013 -
Jack Bechta
The good and bad of the evolving NFL
Less vested veterans: When I was financial advisor and retirement specialist, I had a client who owned a gas station who employed about 5 mechanics. However, there was only one employee who was fully vested in my client's retirement plan. That was the owner. Although he was in business for over 30 years I was surprised to see this. I asked him if it was hard to find good mechanics and help. He said, "No, quite the contrary. It's very easy." Then I asked why he had such a high turnover of employees? He said, "Because after three years they are vested in the retirement plan and that means more contributions from my pocket and a smaller share of the overall plan to me". Oh okay, I see! Less vested employees more money to the owners.
Could the NFL owners be thinking the same way? Perhaps! If so, it's at the expense of vested/aging players.
Although teams are required to spend a minimum amount of dollars under the new CBA, they could manipulate the amount of players who get vested, thus affecting their contributions requirements. The numbers aren't out yet but the agent community is getting an informal cold shoulder for their clients over 30. As another agent put it to me, "rosters are going to be filled with pro bowlers and unvested players, and very few vested mid level players".
From a financial requirement, all teams have to do to work this formula is to pile more money into just a few players such as a QB, LT, CB and maybe DE. These particular positions also have a lower injury risk so they make for good investments.
So what does all this mean? More young players play sooner, higher roster turnover, more growing pains on Sunday as they develop, more pressure on coaches to develop them. It also means less liability and pension funding requirements for organizations in carrying older players.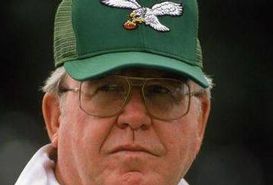 Buddy Ryan's Gang Green defense might struggle under the new rules.
A faster game traded for fewer big hits: As rules continue to favor letting receivers run freer, QB's getting more pampered, and the de-centivising of DBs going for a knock out hit, offenses can operate with less fear from a more toothless defense. Week one already gave us a record of 63 touchdown passes and watch for it to increase as offenses get even more in sync as the season matures.
I believe the NFL hierarchy understands that they can't make the game less exciting without fear of losing audience. So while increasing player safety they purposely but discretely are promoting livelier offenses to entertain us. I think Eagles fans will trade a Buddy Ryan bone-crushing defense, or an Andre Waters' (RIP) yellow flag big hit, for a high octane Chip Kelly powered offense.
Look for more value to be placed on players who can operate in open space. Julio Jones, AJ Green, Shady McCoy, and Darren Sproles are no longer luxury items for an offense but the blender that creates the juice.
Concussions are finally being taken seriously: I got a pretty good scare when my Vikings client, OL Seth Olsen, was knocked unconscious during the final pre season game. He was out cold for a few minutes on the field and taken off on a gurney. However, he did wake up and slowly came around. The trainers actually called me from the field during the game. The GM even made his way to the field just to check on Seth's condition for me and immediately reported back. Historically an agent might get a call the next day from the trainer, but times have changed. The care, the protocol and the follow through for Seth was first class. I was told that the training staff and doctor actually practiced the protocol earlier in the week. Seth is okay now and I suspect he will be playing with a few weeks.
The only downside I am seeing to the concussion attention is that teams may be quick to move on from players who have experienced concussions. It's too early to tell if it's a trend but I can see teams quickly trying to wash their hands of any liability associated with concussions.
The game has probably evolved more in the last three years than it has over the last 30. It's a safer game but it's driven more by profit than wins. Sure, do all owners want to win? Yes, of course they do but I'm afraid the equal share in TV and sponsorship revenues has prevented some owners to spend on bringing in the best front office, coaches, and spending the cap maximum. We witnessed owners win a super bowl then go on cruise control for the next ten years. We witnessed the pain of bad product with empty stadiums and blackouts because even a sold out stadium is such a small piece of the revenue pie now. This is one area I would like to see addressed. Maybe owners who spend the least and produce bad products should get less of the overall revenue for trying to cruise and win on the cheap. I know GMs who were told they have to live with inferior coaches because they were simply under contract. It was said for some players as well.
The evolving NFL is still a great product and an amazing evergreen annuity for its owners. Still entertaining for the fans as well.
Follow me on Twitter: @Jackbechta