November 14, 2012 -
Jack Bechta
The growing power of the media
There are few clubs in the NFL that have become somewhat insulated and almost unaffected by the fangs of their local media. The Patriots, Steelers, Saints and Ravens have built a moat around their castle and stay insulated by producing winning seasons and championships. Owners like Dean Spanos, The Bidwells, Mike Brown, and Ralph Wilson have been around the ups and downs of the praises and criticism so long they are practically numb to the taunts and shots of their local media. In contrast, some of the newer owners who have come on board in the last two decades still seem to be ultra sensitive and reactive to the media's mood and opinion of their team. In addition, many front office execs are also vulnerable to letting the national and local media get into their heads and thus influencing their decisions. For example, many in the NFL coaching circles think that's what happened in Philadelphia with the firing of DC Juan Castillo.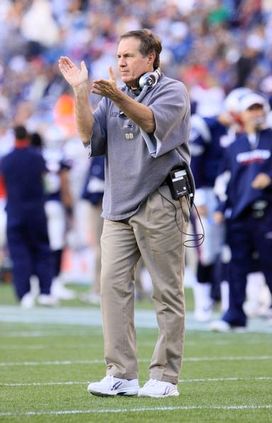 Belichick has strict marching orders of who can talk to the media.
Do you ever wonder if the media influences the decision of owners and top team exec's when it comes to hiring's and firings? Or, even influencing the first overall pick or the signing of a popular free agent, and/or even letting one go?
Well it does for the majority of NFL teams. Over the last 25 years, I got to know many GMs, their assistants, team presidents, head coaches and directors of football operations. Many have told me how they have met with their owners on several occasions to explain away something the owner read in the paper or heard on radio or TV. Several owners and even GMs I know of get press clippings delivered to their desk or email every single day that their team is mentioned. They usually don't admit it but their eyes and ears are paying close attention to everything that is being said about their team.
In addition, wives, children and close friends of owners, GMs and head coaches are avid listeners of talk radio and serial visitors of the internet searching for team rumors and gossip. A brazen attack over the airways can easily set up a tensioned filled mood for an owner or exec when he gets home from the facility. When the evening is filled with discussion of that day's criticism, the media has left its mark. Although most team execs/owners have thick skin, most of their loved ones do not.
Today's article in the NY Daily News about Jets players bashing Tim Tebow will most likely set off a chain reaction within the Jets' management chain. I guarantee you that GM Mike Tannenbaum and HC Rex Ryan will want to know WHO was running their mouth to writer Manish Metha, the reporter who wrote the article. Score another kill for the media on that one. As a side note, if that player is not an impact player, he may even be released if they find out who it was. That's how it works behind the curtain.
CONTINUE READING ON PAGE TWO ABOUT THE MEDIA...