November 30, 2011 -
Barry Dorey
The hometown discount is gone!
With about 300 million in unspent cap dollars why aren't these players signed yet: Drew Brees, Ray Rice, Wes Welker, Matt Forte, Arian Foster, Carl Nicks, DeSean Jackson, Vincent Jackson, Mat McBriar, Jermichael Finley and many others.
One little known deadline, week ten of the regular season, has quietly come and gone with very little activity. The deadline was a team's last chance to sign players where the money would count towards the 2011 cap. However, with unique cap rules in place this year and no per team minimum requirement there was very little activity. For those teams looking to nail down a player for the long term, these players usually get signed before this date. For those free agents to be without a long-term contract by now they may be getting mentally ready to move on.
As an agent of 25 years I can tell you first hand that we as agents and our clients don't like it when the long term deal is not presented and inked prior to the camp of the last contract year.
The team's perspective: From a team's perspective, they always want to lock up their core players, faces of the franchise and young talent with growing upside before the conclusion of their last year. To guarantee that they can secure their services, they sometimes have to lock them up before the start of their last contractual season.
For one, teams don't like to be negotiating into the season and have the process be a distraction to the team. In today's media frenzied environment an open ended in-season negotiation can be a constant issue that affects the entire organization. Secondly, you don't want to push the player and his agent to a point where they get so far along in he process with no deal that they pull the plug on any chance for continued negotiations. Further pressure exists for management to get a deal done prior to the start of the season so they can send a strong feel good message to the locker room; "we take care of our own".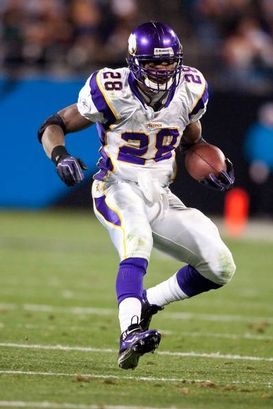 ICONThe Vikings made the right move by signing AP at the start of the season.
This year the Vikings locked up both Chad Greenway and Adrian Petersen as "faces of the franchise". They did so at a point that if they had waited another week, AP would have pulled the plug and not given the Vikes a chance to secure him for the long term.
Teams that have frugal and conservative owners try to push the envelope on this process, especially for positions with high risk for injury such as running backs. That's why you usually see these negotiations rolled into the season. They like to slow play this process by opening up negotiations in the summer with just enough money to keep both sides talking. They instruct their cap guy to move slow and put it off as long as they can. This process is a high stakes calculated game of chicken for management that can easily result in losing their top talent. Teams are also smart and guilty of taking advantage of the type of blue-collar player who plays for the love of the game, who loves his teammates and his team city. For agents, these players are their own worst enemy in securing early deals because teams know they can wait to the last minute to secure them a long term deal.
CONTINUE READING ABOUT FREE AGENTS ON PAGE 2