April 18, 2012 -
Jack Bechta
The Hopes and Dreams of Draft Day
If you pay close attention to the body language, clothes and even pricey accessories of future NFL stars on draft day, you may get a glimpse of their future.
To this day, I still think Tackle Joe Thomas of the Browns handled draft day the best. He went fishing with his dad and told the sports media world to "beat it". While others gobbled up the spot light for all to see, Joe chose to do what relaxes him most. Fish! Well, he also knew the cameras and crowds and well wishes couldn't get to him either.
There is a lot of hidden stress and tension traveling the intestines of some seven hundred former college players who hope and think they will be drafted next week. Their life-long dream comes to down to their name being called at the podium, that is the NFL draft.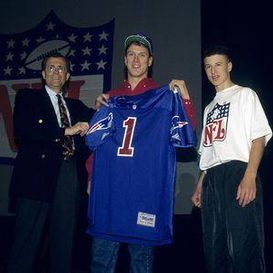 Drew Bledsoe dressed like he did on any other day for his draft.
Even though there are only 32 first round slots, there are about 150 guys who seriously think they may have a shot of being drafted in the first round. That's right, ego, the media and even their agents will help convince a draftee that his name will definitely be called next Thursday in the first round. On the flip side, those who are better grounded are worried they might not be drafted at all. That's right, if you spoke to projected first rounders' like G David DeCastro and Tackle Riley Reiff, you would think these guys are preparing to be undrafted free agents. They could care less about mock drafts or going to New York or having some big draft party. While some players like the drama and excitement of the draft others can't stand it.
I prepare all my clients for the worst case scenario and tell them when I sign them to never ask me or talk to me about their projected draft slot until the week prior to the draft. I don't ever want my clients or their families to have false hopes so I play it very conservatively when laying out potential scenarios. I also try to coach up players and families so the draft is a very positive experience. For many, not being picked when expected turns into the worst day of their life.
There will be 26, the most ever, players attending the NFL draft in New York next week. Each one is assuming there name will definitely be called in the first round or they wouldn't have gone. Unfortunately, there will be at least one or more whose name may not be called. And that player will have to put up with being this year's "that guy", who the camera and ESPN/NFL Network will keep referencing to as "passed up again". While the NFL Network and its staff is usually more sensitive to the torturous pain of that player's disappointment, ESPN seems to play it up as an opportunistic storyline. I actually think that they want and hope that there is always "that guy" there looking disgusted, dejected and on the verge of tears. So draftees beware, if you do go to New York please know you can be the guy the camera is looking for the most when the draft is not going as you hoped.
CONTINUE READING ABOUT THE DRAFT ON PAGE TWO...</strong>