October 07, 2010 -
Jack Bechta
The impact of a big MNF game
Although Pat Chung is under contract with the Pats through 2012, he just made himself a wealthier man with a prime time performance on Monday Night Football.
When NFL players do big things in big games in front of huge TV audiences, it can have a huge impact on their career. The fact is that most owners, coaches and team personnel are watching with intensity. Players who perform well have a chance to etch themselves into the memory of those decision makers. The more times a player's name is mentioned, and his highlights are shown, the better things will go for him when free agency rolls around.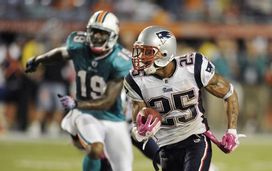 Patrick Chung is pursued by Brandon Marshall after an interception
The impact of a big MNF game will help a player to become a household name. Having a big game on Monday Night Football is equivalent to being a standout contestant on American Idol or Survivor. It helps with Pro Bowl votes, gaining respect from peers, and ingratiating themselves to the media. Once a player like Pat Chung makes a splash like he did on Monday, he gets himself on the radar of all the announcers for the upcoming games. From now on, everything he does will be magnified exponentially in his favor.
Additionally, the solid performance by WR Brandon Tate most likely gave the coaching staff enough confidence to start him and part with Randy Moss. Tate performed well in a big game and it has already impacted his career in a positive way.
On the flip side, primetime games can also be a career killer. Perform embarrassingly, and a player can leave a long lasting bad impression on everybody. Even though it could be just one very bad play or game, it will most likely eventually cost the player.
Coaches are also in jeopardy of being overly embarrassed by the MNF booth and their cameras. Ask Dolphins' special teams coach John Bonamego, who was fired the morning after the embarrassing performance by his unit on Monday night. This is a coach who has coached in the NFL for 12 years and has been with Head Coach Tony Sparano since he was hired in 2008. Did he become a bad coach after just four games? I'm not sure, but the Dolphins owners, GM, head coach and Bill Parcells were all embarrassed to the point that heads had to roll. He may have been fired anyway but when you get embarrassed on a Monday Night game, the repercussions are usually more extreme for both players and coaches.
If Pat Chung can keep playing solid football for the remainder of this year and next, don't be surprised to see his deal extended earlier than most. If he hits the free agent market in 2013 he will be an easy sell to owners and head coaches. "Oh yea, I remember what that guy did to Miami on Monday Night, let's bring him in."
Follow me on Twitter: @jackbechta