March 21, 2012 -
Jack Bechta
The Limited GM
When an agent has a top player in free agency, he usually has a good idea what the market will be for that player before it commences. He will play one team against another, use the visit/tour process to tease teams and raise interest and of course, the price tag. It's the ultimate game of cat and mouse, musical chairs and chicken. At stake is the improvement of a franchise and the career of a pro athlete, which is left in the hands of what amounts to a skilled auctioneer. We, the auctioneers, have a good sense of which teams are willing to do what ever it takes to win. And yes, some are foolish in their decisions but yet their efforts are pure. Others are savvy and some aren't even given permission to participate.
The conundrum for a determined GM who wants to win every year is getting his owner on the same page and avoiding overpaying for a free agent savior. All GMs want to win right away and he knows he has a finite window to do so. An owner on the other hand wants to win but may want to rely more on hope than a costly plan. After all, they may own the team their entire life, thus they have time. So owners may handcuff a team by sucking the cash out of the business into their pockets, and/or distributing it to the growing family, which they have the right to do.
So each year when free agency rolls around, a team usually makes a philosophical decision such as:
1) Lets upgrade our team, be active, and go for the fences in trying to win it all.
2) Stay focused on keeping and paying our own players and target a missing piece of the puzzle.
3) Let's get younger, stay out of the initial phase of free agency, and maybe pick up a few players at the minimum to fill some holes. We will build through the draft.
Usually when a team is using #3, they could be shortchanging their fans, unless they are already a good team who has their core players locked up. Rarely does a GM ever choose this option if he has full reign over the purse strings. The biggest shock many GMs get when they get the job is how little control they get over the teams cash. As one GM put it to me, "I always have two negotiations when trying to sign a player, one with the agent and the other with my owner and the one with the agent is the easiest one."
The NFL front offices are definitely becoming more surgical in targeting free agents. It was nice to see the Bucs finally came back to life after several years of hoarding their cash.
For those agents who were expecting big numbers in free agency, they may have done their clients a disservice by overpricing them, thus potentially having the price tag fall. I keep hearing a lot of teams saying that they "want to get younger". Ironically, the new CBA was forged with hopes that more cash will be allocated to veterans. Outside of the QBs, we are not seeing that happen across the board so far.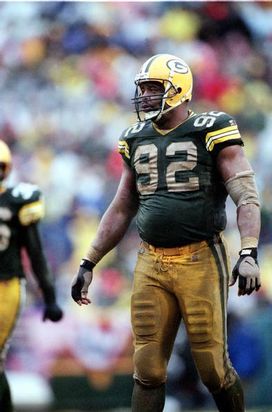 ICONThe aggressive actions that the Packers took when they signed Reggie White and then traded for Brett Favre is a thing of the past.
Personally, I feel that building through the draft is the only way to go but you can't discount the thirty-some things that can help your team win now. With the new rules in place limiting the amount of contact practices in the off-season, during camp, and the season, the thirty-some things should be healthier, fresher and can potentially play longer then their predecessors. This group of players may now prove to be a more attractive investment than in the past.
If I owned a team, I would be trying to win the Super Bowl at all cost every year. That's what the Pats, Eagles, Raiders, Saints, Packers, Cowboys, Redskins, Giants, Jets, and a few others teams try to do every single season for the last decade. They are not afraid to spend on that "missing puzzle piece" to get their team over the top. I believe some teams take the year "off" by curtailing spending on their own players and free agents. Others teams such as the Steelers have done so will in the draft they don't have to be that active.
I think people forget the rebirth of the Packers started with the signing of free agent Reggie White and then trade for Brett Farve. These were aggressive actions at the time for then GM Ron Wolf. I doubt that many of today's owners would have allowed him to do both. Once the real salary floor kicks in, in 2013, your owner may be keeping his hands in his pockets waiting until they are forced to put the best possible product on the field.
Free agency isn't the only answer to winning a super bowl and building a great team but it is an important part of spackling the open holes that the draft can't always immediately deliver. It can also be a measuring tool to see how committed your owner is to fielding you a winning team each and every year. There is a reason why the NFL Players union fought hard to put mandatory spending floors in the CBA. Without it, there would be lots of free riders. The fans deserve maximum effort every single year.
Follow me on Twitter: @jackbechta