March 22, 2011 -
Jack Bechta
The media's influence on the draft
Ten plus years ago, draft intel such as 40 times, injuries, private workouts and visits were secret, sacred and difficult to obtain. The agents controlled (and still do) most of the information that went to the media. Mel Kiper was like Halloween's Elvira who only came out about one month out of the year, and the Combine and Senior bowl were void of the mass media.
Times have really changed: Today, the Combine is on TV, there are over 50 websites dedicated to the draft, the Senior Bowl and Combine are flooded with media members and every move made by a team or draftee is quickly announced for public consumption. More NFL sites and TV outlets are now covering draft prospects 9 months out of the year.
The days of teams moving secretly on campus to conduct private workouts are over. I know for a fact that the majority of agents leak their clients' workouts with hopes of generating interest from other teams and in order to paint the picture of inflated interest.
But does the media coverage have an impact on the outcome of the draft and its participants?
Media Evaluations of talent
When looking at mock drafts and player rankings the media doesn't have the whole picture to make the most accurate projections. What they do have is combine data, glimpses of players from all-star games, and some game highlight shots. Some may even have all the TV tape (not coaches tape) of all the games. Most get second hand reports from pro days that the media was excluded from and others have a direct conduit to scouts and even directors.
What they don't have are the important pieces of the puzzle that have a huge impact on what decisions are ultimately made on draft day. The media lacks access to college injury files, Combine physical reports, first hand character reports from college coaches and teammates, and the whispers that come from college trainers and position and strength coaches who usually know more about the players than anyone.
They also are not privy to the results of intense one-on-one film study and grease board sessions conducted at the senior bowl, the combine, and private campus workouts. Thus, a big part of the puzzle is missing to make a true and accurate evaluation.
The media have very little impact on how a team will set its draft board. Although, there are some owners who are obsessed with public opinion and get daily clippings to keep up with general information flow. If a draftee does have some character issues in which the media is well aware of, it may sway management to avoid that particular player on draft day.
Agent Propaganda
It's the agents' job to do whatever it takes to help get his or her player drafted as high as possible. Thus, we are usually giving the media heaping spoonfuls of information that is beneficial to our client's image and draft stock. Agents right now are exaggerating 40 times, the amount of private workouts and visits, along with getting their clients multiple interviews in different markets with hopes of heightening their profile. Both big and small media are eating up whatever we are serving. And yes, I have been guilty of all the above.
The agent hype machine can make a big impact in the media but it doesn't really translate to moving up the board. If players and their families start believing everything they are reading it usually sets the player up for a long and disappointing draft weekend.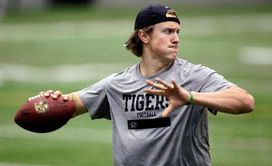 Blaine Gabbert has reportedly met with several NFL teams, but which are really interested in drafting the QB?
The team visit; a smoke screen?
<p> One longtime scouting director told me that if he were interested in a QB, he would not bring in him for a visit and bring in one he had no interest in drafting. The reason for this was that it would leak out and he didn't want to show his hand to the other teams.
Last year, client LB Pat Angerer had only one visit to the Saints and was eventually drafted in the 2nd round by the Colts who showed very little interest in him throughout the whole evaluation process. The Saints did not draft a linebacker in 2010. Iowa gives NFL personnel quality access to their players so there's little need for re-checks via a visit.
Many teams use their allotted visits for a closer medical check, character check, and to "recruit" potential priority undrafted free agents. They also use them to send mixed messages to other teams using the media to do so. So don't read too much into a team visit. More visits do not equate into more interest.
NFL teams have been known to use some media produced mock drafts in their war room as an added tool to guess what other teams may do. However, I believe the media has little effect on the outcome of the draft. The exception is in a case where the media has a negative character mark on a player and produces content about him frequently.
It's been my experience since being in the business that NFL teams give very little clues as to who they will draft. 50% of the time, my clients will be drafted by teams that did not have a private workout or a team visit. Not to say speculating isn't fun and entertaining.
Follow me on Twitter: @jackbechta