August 15, 2012 -
Jack Bechta
The MVP's of Training Camp
Bill Parcells hated and I mean hated to see any of his players consistently in the training room. When Bill would walk in, which he did frequently, guys would exit as fast as they could. He believed that mental toughness was the best medicine to force your body to heal.
There is more to the NFL training room than meets the eye.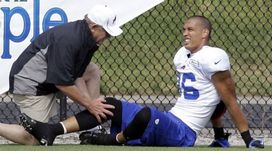 The trainer's job never stops.
Last season, I had a client tell me he got a stinger, his second one, but didn't want to tell his trainers in fear of missing time and then getting cut. We arranged treatment outside of the team and he grinded his way through camp and on to the roster. It's typical for players to have their own team of stealth body mechanics on call for daily or weekly servicing. Even though the NFL (with years of prodding from the NFLPA) has changed many of its protocols for improved medical and training needs, some teams still operate in an archaic manner where players are intimidated to reveal their ailments in fear of being released. Non-starters get minimal care and cold shoulders are given when a player asks for an outside second opinion.
I hate to say this publicly but some teams don't always tell the players the true extent of their injuries, thus positioning themselves to cut ties with the potential liability. A team's practice of getting an injured guy on the field, on tape practicing, (proof for the team that said player is healthy in case of an injury grievance) and then cutting him was commonplace in the past and still happens some today. If a team has evidence of a player performing it can save them money on injury settlements, medical care and even workman's compensation costs.
In 2000 I had a rookie draft pick suffer 3 concussions in less then ten days during camp. The team's GM called me and said they are cutting him because he thought, "he was faking it". Knowing how badly my client wanted to play and listening to him on the phone, not remembering he just called me an hour earlier, I sensed his condition was serious. The trainers wanted to keep him out of practice for several days but the GM who wanted to purge the player overrode them. Trainers are sometimes put in conflicting situations by their bosses. The truth of the matter is, some trainers are intimidated by their head coaches and don't always act in the best interests of the player. They may be pressured to act in the best interests of their owner's wallets and the GMs wishes to wash the team's hands of any damaged players.
The Packers have about 19 players injured thus far and their trainers are under fire to get guys healed and predict their return so the coaches can plan practices and/or find temporary or long-term replacements. The Packers' trainers, like all teams, will have a huge impact on the outcome on their season, depending on their ability to get guys healthy and back on the field. In my experience with clients OT Earl Dotson, CB Al Harris, and three other clients I had there over the years, their medical and training staff does a top notch job in communicating to the players, giving them first class treatment and supporting them when using outside physicians and being honest with them about the details and/or seriousness of their injuries.
CONTINUE READING ON PAGE TWO...