February 05, 2013 -
Jack Bechta
The NFL in February
The season is officially over but February is a busy month for many NFL execs and agents.
As things quiet down (except for Ravens fans) the NFL execs, coaches, scouts, agents and players have plenty to do.
Here's a break down of who is doing what and how and where:
The Players: With the stress of the season over, the majority of players book some vacation time. The most popular destinations are Vegas, Hawaii, Mexico, San Diego, Florida and Atlantis. I have one client touring Europe as I write this, a few here in San Diego and Phoenix just starting their off-season workouts.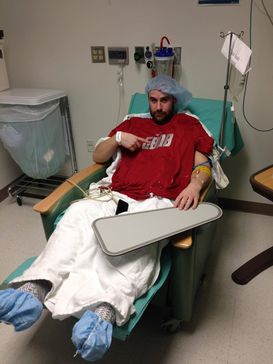 This is what many NFL players look like in February.
February is also medical maintenance time for those whose body didn't fair so well during the season. Many players use this time of the year to "clean out" their joints. I have five of my eighteen clients who have had a scope to have their knees, ankles and/or shoulders cleaned out of debris created from a physically taxing season. Another two had more serious orthopedic procedures. Rehab starts immediately after the operations.
Other players who took off three to four weeks after the season usually start their off season workout rituals this week. Drew Brees can always be seen this week in San Diego starting his core workouts. Many players focus using just Yoga in January and February to unwind the body from its fall pounding. I know some guys who do nothing but yoga and non-weight bearing exercises for the whole month of February to help regenerate their bodies.
Unfortunately, February also brings a high arrest/incident rate for NFL players. There is no structured environment this time of year so many players are rudderless while blowing off steam and end up making some poor choices.
The agents: February for the agents means Combine preparations for our rookie class, gearing up for free agency, performing post-season maintenance such as filing workman's compensation claims, helping with tax preparation and other paper work. It's also a good time for us to help our clients set their 2013 goals.
The "unofficial" free agency begins with us talking to potential suitors and setting up meetings at the Combine with teams that may have a serious interest in our clients. The weekend of the Combine in Indianapolis is full of deal making, restructuring talks and establishing a market for our clients.
Scouts: February has scouts tweaking their grades, watching more college film and selling their opinions to their bosses. Pro directors are finalizing their free agent rankings and discussing their opinions on which players can best help their team. It's also a great time to self-scout, which is the hardest evaluation for teams to perform.
Coaches: Some teams give the coaches a week off this time of year. Others keep grinding. Some teams let the coaches be a part of the evaluation process of rookies and free agents while others don't want them anywhere near it. Head coaches are finalizing their staffs and negotiating salaries for those whose contracts may be expiring. The new staffs are drawing up their playbooks, off-season workout plans and watching every one of last year's games to evaluate and get acquainted with their new players.
Cap managers: They have a tough job this time of year getting the cap ready for the start of the new season. It's their job to let coaches and GMs know where they stand on both a micro and macro level. While the coaches may want four new free agents it's the cap manager's job to let them know they can't afford them. For those who have plenty of cap space they go over each contract looking for ways to save even more or show the decision makers how to spend efficiently in 2013. For those who are managing a big overage on the first day of the new year they are advising their bosses on what must be done to get under the cap.
The media: February means speculation time. They are trying to figure out who is going where in free agency. Believe it or not, agents are very tight lipped and don't give the media anything until we need to or want to. The information we choose to give to desperately thirsty reporters is self-serving to help our clients gain value. Thus, the media is used and abused by agents this time of year (and even by team front office execs) so don't believe much of what you read in February.
Although the season is over, moves being made and the strategy being forged in February by your team will set the stage for their success or failure.
Follow me on Twitter: @Jackbechta