December 16, 2010 -
Jack Bechta
The NFL Minority Report
One of my former clients who played Center and Guard in the NFL for 8 years has been coaching now in college and the UFL for 5 years. He has also been participating in the NFL Minority Coaches Program. His goal is to become an NFL offensive line coach. He's doing all the right things in getting there, aka, paying his dues. I told him it may take a few years but he will get there if he is determined. As I am telling him this I realize that there are only 3 minority offensive line coaches in the NFL. My client is African-American. What's going on here?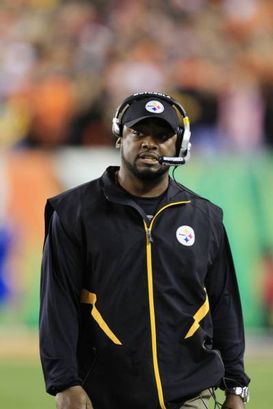 Mike Tomlin, one of the NFL's finest coaches.
In a recent a visit to the NFL league offices in New York, I was pleasantly surprised to see the amount of diversity that exists at the executive level. The recent addition of Ray Anderson, Merton Hanks, Troy Vincent and Robert Gulliver has made a statement. Such that the 2010 Richard Lapchick report which grades pro leagues on diversity hiring has given the NFL an "A" grade for minority hiring/retention/treatment and an overall "B" for diversity.
Before Roger Goodell became Commissioner, he was the one who actually founded and championed the NFL Diversity Council about 8 years ago. Recently, Roger appointed an African American named Robert Gulliver as Chief Diversity Officer and EVP of NFL Human Resources.
In a conversation about diversity with NFL EVP Ray Anderson, he told me that; "the progress made to date has been extremely gratifying to him personally because there have been tangible results of the league's internal efforts to improve diversity at the top and throughout the league." It should be noted that Ray represented Tony Dungy and Denny Green so he started out in the trenches on the other side before working for the NFL.
When I asked Ray if there were any formal procedures in place to promote diversity at the team front office level he said there is not currently one but the idea is being tabled. He also said that the league office wants to be an example to the individual teams and that they want to be somewhat reflective of the demographics that make up the league as a whole. He said that the league encourages teams to look to the spirit of the Rooney Rule when hiring assistant coaches and front office executives.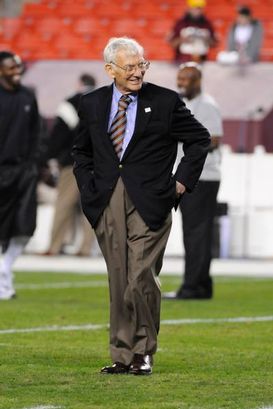 Dan Rooney embodies the spirit of the Rooney Rule.
With 8 current NFL minority coaches, counting interim coaches, it does look like the Rooney Rule is starting to make a serious impact. However, there are two coaching positions that the league is monitoring; offensive line coaches and QB coaches which lack minorities.
It also looks as if there needs to be a little more work done at other levels of team front offices. Of the 32 NFL teams I could only count about 28 minorities and a handful of woman out of some 125 positions involved in football operations. For example, there are only 3 minority General Managers and only a few salary cap managers. One area that many minorities are making progress in is at the pro scouting position.
As an agent who also represents African-American coaches, I would like to see the NCAA do more to promote the hiring and interviewing of minorities. However, this year seemed to be the biggest jump ever for minority head coaches when the amount of division I FBS head coaches went from 8 last year to 15 presently.
I like to believe that we live in a society where everyone gets an equal opportunity, no doors are shut based on race and/or gender and that the best qualified people get and keep the job based solely on their abilities.
The NFL is doing a great job at the top but the trickle-down effect still has a ways to go.
Follow me on Twitter: @jackbechta