March 29, 2011 -
Jack Bechta
The NFL player's offseason
Believe or not, many NFL players are okay with no football for a few months. But just for a few months in the offseason. Trust me, they are in no hurry to get back to their respective team cities and start offseason workouts. You won't hear any of them say it publicly, but they are embracing their current and potential time away from the demands of pro football.
So what are they doing right now?
The top places players vacation: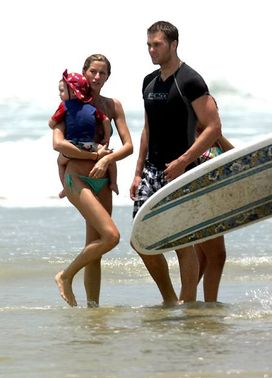 'The Brady Bunch' spends some family time at the beach.
Hawaii – Kid friendly, dependable weather, golf and class A accommodations. Maui and Kauai are especially popular with several high profile NFL QBs who have purchased second and third homes there.
Jamaica - Easy to get to from the east coast, not too expensive and a popular spot for both family and couples looking to get away. There is plenty of jet-skiing and relaxing by the pool.
Mexico – Playa Del Carmen and the eastern side of Mexico is a simple getaway loaded with all-inclusive resorts. Keep in mind that most college football players never got to experience a spring break because of the requirement of spring football. However, most of their wives and girlfriends have so they usually do the planning. They love the convenience of the package deal.
Dominican Republic - A popular place for the single guys where NFL players get treated like royalty and their money goes a long way.
Atlantis – Perfect for players with families. A little bit of everything, including casinos, private adult section and it's a kid's paradise. Not to mention some swank suites where players have little issue flipping the bill.
Las Vegas - During the two weekends immediately following the end of the regular season, there are easily over a few hundred NFL players who make their way to the desert oasis to blow off some steam. Pasty big bodies can be seen poolside sipping girly drinks trying to garner any sunshine and laughs they can get. Marathon blackjack sittings are the norm. I had one client recently win $28,000 just a few weeks ago by putting a few black chips on his favorite jersey numbers.
Top destinations where players are spending their offseason for serious training and quality of life:
Florida – Even though there are over 200 guys in the NFL from Florida, many more are making their way in the offseason to train in the sunny weather. The Miami area along with Orlando seem to be the key destinations where several long time trainers such as Tom Shaw hold off season workouts.
San Diego – There are five NFL QBs including Drew Brees, Carson Palmer and Aaron Rodgers who call San Diego their home in the off-season. Many of these players' teammates are following their QBs to catch passes and cover receivers. Once a player gets a taste of the amazing weather and the laid-back lifestyle, they start talking to real estate agents.
Phoenix – The phoenix area is home to several training facilities where many players were sent by their agents as rookies to prepare for the Combine. Athletes Performance and Rehab Plus (Makeplays.com) both attract large groups of players who can even run full 7 on 7 practices in the hot summer months followed by daily golfing outings.
Orange County/LA – Many of the players from So. Cal and who played at UCLA or USC have a hard time staying way. Many can be found at their alma mater.
Most popular recreations are:
Golf – I would estimate that over 70% of all NFL players hit the links multiple times in the offseason. Many of the kickers, punters and QBs are practically scratch golfers. Some guys I know play about 5 days a week and make annual pilgrimage to Pebble Beach, Torrey Pines and many other storied courses. The country club is one place where players like Tony Romo can be insulated from the demands of the public and autograph seekers. Players like Al Harris, Tom Brady, Chris Cooley, and Kyle Williams have also sought refuge on the links, and have the handicaps to back it up.
Basketball – Believe it or not a lot of NFL players can be seen playing pick up basketball but none will admit it, as NFL teams will frown on this activity. Many NFL players were great high school players and miss the sport badly so they use it as a fun way to keep in shape. Many wisely work on their three pointers while avoiding dangerous traffic underneath the iron. Tony Gonzales and Antonio Gates were college stars who continue to dominate the rim. Doug Flutie could even be found playing organized basketball while playing for the Chargers. He is and was the ultimate gym rat.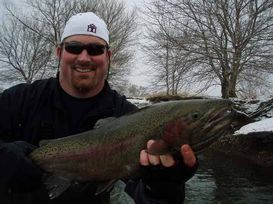 Another fish dominated by Matt Light.
Fishing – Pro athletes love the solitude of being in a boat, a few cold ones and nobody to hound them for an autograph. Most trips are local in nature near the players offseason home but many popular spots are Florida, Cabo San Lucas, Montana, Arkansas and Colorado. Pro Bowl tackle Matt Light and QB Kevin Kolb have been known to be feared by fish everywhere.
Even though NFL players have the financial resources to travel the world, many just like keeping their offseasons simple. Between the demands of their friends, families, team and fans, pro athletes find little time for themselves and seek places and outlets where they won't be judged or disturbed.
Follow me on Twitter: @jackbechta