June 15, 2011 -
Jack Bechta
The perks of being a great college player
It's obvious that some NCAA rules were violated with some cash, memorabilia and maybe tickets changing hands in Columbus, Ohio between Buckeye's QB Terrelle Pryor and local businessman, Dennis Talbot. A former friend of Terrelle says he witnessed $500 to $1,000 being exchanged for his autograph. In addition, the former friend also said that Terrelle had access to free food and services throughout the Columbus community. All of which are NCAA violations.
Well folks, I have news for you; "The hundred dollar handshake" has been around for years at most major universities and probably isn't going anywhere any time soon. However, today the 100 bucks has evolved from a crisp Ben Franklin to cars, services, food, and other tangible items. The majority of this comes from boosters and alumni who want to get as close as they can to their school's hottest stars. My estimate is that there are at least two to three stars at each major program receiving improper benefits as described by the NCAA.
The NCAA, many head coaches, and even school compliance departments all have a decent idea of what goods, cash and services are being given to their student athletes. Just about every school town has its go to "hook up" restaurant notorious for taking care of the football players. Furthermore, these restaurants have been relied on heavily during recruiting weeks for some help in entertaining and feeding the hopeful signees.
The college football environment is such an intimate setting that any slight change in a player's appearance, economic status, or company they keep is usually instantly noticeable by coaches and teammates.
So why does everybody look the other way? Well for one, I don't know many coaches who are quick to turn down an offer of a free meal or turn down a great deal on a car. So many of them are drinking from the same well. Furthermore, the guiltiest of alumni are usually the program's biggest donors. Thus, the conundrum for coaches and school administrators is that they don't want to scold their biggest benefactors in fear of alienating them.
In the summer of 1995 I met a player from UCLA at an Italian restaurant not far from campus. He recommended the restaurant as the location for my presentation. He showed up with 2 buddies who were also members of the Bruins football team. As I gave my presentation to the eventual high draft pick, he and his mates ate like Vikings. Afterwards, I told the player that I couldn't pay for the entire meal because it would be a violation. He laughed and said, "don't worry, we haven't paid for a meal here in 4 years". Sure enough, there was no bill, just a lot of hugs, handshakes and back slapping with the owner.
I also have had many players tell me about their high paying cash summer jobs that usually consist of little or no work. Additionally, I've seen college players going into their senior year driving new vehicles, which it was obvious that their parents couldn't afford. Coaches see these cars in the parking lot but very few want to get involved in their player's dark dealings. There is also a sympathy factor in play for many student athletes. Many boosters and former players know these young men generate millions for the schools and get little in return above their scholarship and stipend. So they like to make sure they have some cash in their pocket and a full belly.
There's no doubt that agents play a role in funneling college players some cash and goods but the school's own community is usually the biggest culprit. It really does become difficult for young, starving and poor men to say NO to the multitude of unsolicited offers of goods and services that come their way. The truth is that many athletes manage the windfall with a high a degree of stealth while others can't help themselves and just get greedy.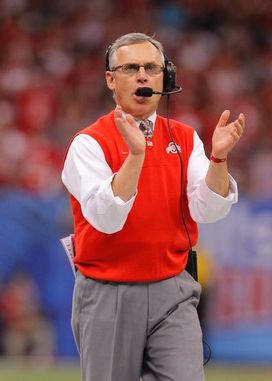 ICONWhere will Jim Tressel end up?
Coach Jim Tressel's ultimate fall came by turning his head the other way while some of his players took what the community had to offer. If the head coach doesn't put his foot down, nobody else will.
I recently had a North Carolina booster tell me that nobody in Chapell Hill was "prepared" for the amount of talent that Butch Davis was bringing to campus. Not the staff, not the compliance office and especially not the boosters. Where there is a pipeline of NFL talent, there is also a pipeline of agents, marketers, financial advisors and alums trying to entice the local star into a future business deal or agreement.
He also told me that Butch has dropped the hammer across the board and is working extremely hard to get everybody in line so there won't be any more compliance issues. Even some agents that Butch thought he could trust let him down. It's not easy for a coach to control 60 plus kids and their families.
As a former scholarship football player I took every free meal I could get and took any crumb a booster would throw me. Believe me, it wasn't much but it really helped me to just survive, keep on some weight and enjoy college while being far from home. I don't condemn student athletes for enjoying some of the fruits of their labor but when they get blatantly greedy, selfish and risk bringing down the efforts of the entire program, then, they should be punished.
Follow me on Twitter: @jackbechta