October 09, 2011 -
Barry Dorey
The Raider Way, The Mr. Davis Way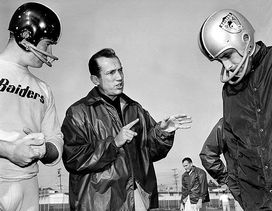 The iconic Al Davis and the Raider Way.
December 3rd 1989, the LA Raiders just polished off the Broncos in the Coliseum with the help of my first client, TE Mike Dyal, who was later named AFC player of the week for his performance. With the help of my trusted NFLPA card and assuming attitude, I easily made my way into the Raiders locker room to congratulate my client just minutes after HC Art Shell gave his postgame speech. As soon as I found Mike and gave him a big proud hug, however, I didn't notice at first but Al Davis was next in line to give Mike some props. After a few that-a-boys with and some X and O talk with Mike, Al turned to me and said, you must be the agent. I said, "yes sir I am, the very proud agent". He looks me in the eyes puts his hand on my shoulder, starts shaking his head with a smirk on his face and says; "every time one of my players has a good game or a good year his agent seems to mysteriously appear. I guess I am going to be seeing a lot of you", as he gave Mike a wink as to compliment him on his rising status.
I honestly thought he was going to be pissed that I was in the locker room but he actually made me feel very comfortable.
A few seasons later I went to my hometown Philly to see the Raiders play the Eagles and take my two clients out for cheesesteaks. While waiting in the Lobby of the Raiders hotel on Broad Street, Al Davis walked in with a hefty entourage of characters (as he had alot of friends from the east coast). I said hello to him in the lobby and I was surprised that he instantly remembered me. He asked me to walk with him and asked me where I was from. When I told him that I grew up just a few miles away, he seemed to give me a look of approval and begin telling me that he grew up just a few hours away. He went on to tell me about all the people he grew up with and the long line of famous people that graduated from his High School Erasmus. He specifically mentions Howard Cossell, Barbara Streisand and Mo Green. I could tell he took monumental pride in where he was from.
Once again, one of the NFL's most powerful icons of the time took a few minutes to engage a young no-name agent with just a few clients. As time went on and as I grew my business I had a few more direct dealings with Mr. Davis (as it was natural to call him) and he always took a few minutes to ask some personal questions, make me feel comfortable and even crack a joke. Although the majority of my dealings were conducted with George Karras, Bruce Allen, Mike Lombardi and Amy Trask, I understood and respected the Raider way.
So what was the "Raider way"? From what I can tell, the "Raider Way" or the "Al Davis Way", was doing business with a sense of old school values where loyalty, secrecy, honor and your word was more important than a contract. The Al Davis way was definitely a two-edge sword and when you found yourself on the right side of it, it was a rewarding thing. I had a few situations with the Raiders over the years that amounted to some typical client grievances that normally happened in the course of business. When I presented them in a respectful manner, Mr. Davis always made the right decision as long as my client(s) showed him loyalty. And the standard of loyalty that Mr. Davis demanded from his players and employees was almost unrealistically attainable. But those who obtained it were in a very small circle of trust and extremely well taken care of.
I don't think there may ever be an owner and GM that produced more stories for players, coaches, personnel directors, trainers, media, and employees then that of Mr. Davis. I'm sure we will hear them all over the coming weeks and months. RIP Mr. Davis.
Follow me on Twitter: @jackbechta