July 27, 2011 -
Barry Dorey
The rookie checklist
As I send off my 5 rookies to camp, I like to leave them with some advice. My 25 years as an agent has given me an inside look as to why some guys make it and some guys don't. Unless you are drafted in rounds 1 through 3, a player is always at risk of being released, and worst of all, not getting any reps to show other teams you can play. Making it might depend on your mental toughness, ability to learn and doing all the little things to catch the coaches' eyes.
Know your bosses, the staff, and your environment: Do some homework by getting online and get to know your coaches. See where they came from, where they coached previously, where they may have played, what school they went to and what state they are from. More importantly, do some homework on the owner, his history, favorite charities and make sure you know his wife's first name as well.
It's just as important to get to know the trainers and the head strength coach who can make or break your career. If they don't like you, you are in trouble. Going to camp with knowledge in your pocket of the people you are working with will add a level of comfort and familiarity and take away some anxiety and stress. Last year, client LB AJ Edds did extensive background work on his Dolphins staff, including Bill Parcells. One day while passing Bill after a mini camp he asked him who he liked in the Pacquiao fight and the Kentucky Derby that weekend. Bill stopped dead in his tracks and sat AJ down for 30 minutes and talked about his two favorite passions: horse racing and boxing, two things AJ discovered about Bill before arriving in Miami. When AJ tore his knee the first week of his rookie camp, Bill called me personally to assure me that the Dolphins will hold on to him and give him another solid opportunity the following season. Bill Parcells doesn't do that normally for a 4th round pick.
Focus on football like you never have before: In the NFL every player has talent, most have instincts, and others have superior knowledge of the game. However, few have all three. The only way a rookie is going to get reps is if he learns the system quickly, builds trust with his position coach by absorbing the X's and O's and by studying his ass off. The other way to focus is to eliminate all distractions by completely shutting down your social life (calls, texts, emails, TV, video games, friends and even some family). "You must create a silent mind." Last season, rookie TE Tony Moeaki of the Chiefs took just one day a week, usually Tuesday, to return phone calls or text. If it wasn't important enough, you didn't hear back from him until after the season. He did absolutely nothing socially and stayed late every night to watch film. His efforts showed by breaking several of Tony Gonzalez's rookie records.
Think like a pitcher: Rookies are going to make a lot of mistakes so I tell my clients to expect errors but learn from them and don't get down on yourself. Embrace each mistake as a learning opportunity and don't get emotional about it. If you do make a mistake, don't put your chin on your chest and curse yourself out. Show confident body language and quickly reconstruct the rep, make a mental note of the error so you don't do it again. When you give up a home run, don't let it detract from your next rep. Projecting confidence and maturity through camp is important. Colts' second round pick last season, Pat Angerer not only started 11 games, but also ran the defense and made all the calls. He made some mistakes in camp but never made them twice. He would carefully review his mistakes after each practice and make adjustments so he never made them twice. The coaches trusted him enough to hand him the defense on Sundays.
Listen to the Vets. Don't listen to the Vets: Veterans can be your best friend and worst enemy all at once. The majority of vets treat rookies very well by going out of their way to help them both on and off the field. Vets can be great with teaching you the ropes on how things work in the locker room, on the field and specifically with the head coach. Coaches like Bill Parcells, Todd Haley, and Bill Belichick are and were very quirky and have a very specific way of forming opinions.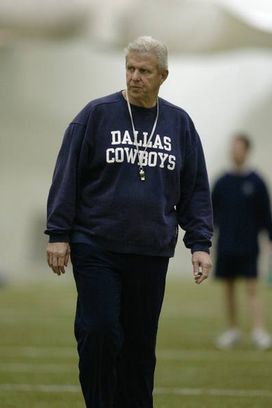 ICONGetting 'the look' from Bill may be worse than getting it from Mom.
Bill Parcells would troll the training room every day and if he saw you in there too often he would think you were soft. If your name was Nick he might start calling you Nancy and for days, pick on you during practice and test your physical and mental toughness. Most rookies would break under Bill's stabbing tongue or even just from one of his patented "disgusted" looking glares. A vet can give you some guidance on how to navigate your way around the likes and dislikes of a head coach or GM. A vet could also mislead you because they feel threatened by your youth. Vets have been known to tell rookies to "slow it down you're making me look bad". Or give false guidance in hoping you will screw up so they won't lose their job to you. I remind my players that NFL players make a lot of bad decisions so be careful whose advice you follow.
Don't project! When a player arrives at his new team, he can quickly figure out how the roster works if he so chooses. He will see who the starters are and where the battle is for his position. He will then learn how many active players they keep at his position and how many guys they kept on the practice squad the previous year. If a rookie starts projecting where he fits or doesn't fit after the last cut, he's just setting himself up for failure. I can't tell you how many times a player calls me during camp saying "I can't see myself making it as they already have their guys". That tells me my client is worried too much about being cut versus executing his assignments and giving his all.

NFL coaches have a tendency to also project their roster even before the first practice. But my experience is that rookies who are oblivious to the numbers and don't project roster spots, give off a positive energy and perform with more passion which can be recognized by the coaches and scouts. I remember watching Wes Welker during camp as an undrafted free agent with the Chargers when they were loaded with receivers and returners. There was no way he could make that team especially after they just signed veteran look-a-like, Tim Dwight, to a five-year deal with a six million dollar signing bonus. Wes' play and attitude in the preseason was so infectious that many scouts from other teams took notice and had him on their short list in case he was cut. When he was released, he was snapped up by the Dolphins and the rest is history. Wes completely ignored the numbers game and did not let the odds of making it with one team affect his psyche.
NFL training camps are not fun and the mental pressure is more daunting than many can imagine. It can humble the most decorated and celebrated college players into submission and kill their confidence so every little thing matters when trying to make a team.
Follow me on Twitter: @jackbecta