February 01, 2012 -
Jack Bechta
The secret Super Bowl ticket market
When I first moved to La Jolla, California in 1990, I discovered an amazing Italian restaurant. It was and still is one of the best in San Diego. I also discovered that the owner was in the ticket broker business. This was before the days of the internet and eBay.
One night while the owner, lets call him PT, was making his rounds dishing out free desserts to his favorite customers, he stopped by my table, knowing I was an NFL agent, and asked me if I had access to any Super Bowl tickets for sale, as he told me he would pay top dollar.
As I got to know PT better, he told me that every year a few weeks before the Super Bowl he buys several hundred thousand dollars worth of Super Bowl tickets from at least two different NFL owners, then resells most of them to Vegas casinos, their high-roller hosts and some Wall Street friends of his back in New York. He also would run ads across the country and sell to whoever called and could wire cash.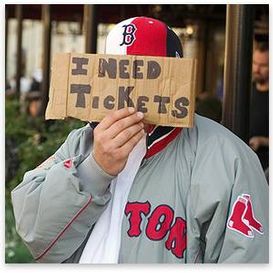 If this guy is a true fan, getting Super Bowl tickets is going to be pretty difficult due to the hierarchy system.
Sure enough, two years following the year after he told me about his ticket gig and his suppliers, I was in the restaurant when a well-known NFL owner walked in with his entourage and a black brief case in hand. PT greeted him enthusiastically as if they were old friends. The AFC owner was seated at the best table with his brief case close by. Once everyone got settled and orders were taken, PT whispered something to the owner, took the brief case and disappeared into the kitchen. Once dinner was just about over, PT reappeared from the kitchen, brief case in hand. He went back to the owner's table and placed the brief case where it had been sitting earlier. Soon after the exchange, the NFL owner and his party of about eight people, made their way out the door with the owner waiving off the check.
After the owner was gone, PT proudly gave me a peek inside a wine box with the bottle dividers removed. Low and behold, there were several hundred super bowl tickets bundled together with rubber bands, and a piece of white paper with some numbers scribbled on each one. PT looked at me and said, "Every year like clockwork, now I gotta start hustling". Needless to say, it was obvious that cash most likely replaced the tickets in the brief case.
PT never told me who the other owner was but I got a sense he was located on the east coast because he had to fly somewhere to do his deal. For the record, the owner I witnessed in the restaurant is no longer an owner and I believe PT is out of the ticket game. After watching this exchange, I wondered how many other owners were secretly selling their tickets at a premium in the secondary market.
I'm not sure if most fans are aware but NFL players, scouts and coaches get two Super Bowl tickets in which they have to pay face value, about $900. Just a few years ago face value was about $450. Some General Managers and Head Coaches receive more than two.
CONTINUE READING ABOUT SUPER BOWL TICKETS ON PAGE 2